Top EU diplomat reveals Ukraine's ammunition target
Josep Borrell claims the number of shells provided by EU states to Kiev will likely reach one million by March 2024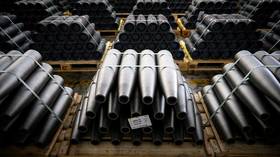 The European Union will likely be able to fulfill its promise to supply Ukraine with a total of one million artillery rounds within 12 months, the bloc's top diplomat has said. Member states have already shipped 220,000 shells of varying calibers to Kiev since March when the pledge was made, Josep Borrell added.
Speaking to journalists after a meeting of EU defense ministers in Brussels on Tuesday, Borrell said that the "latest figures actually are much better than we had just some 10 days ago." The official noted that member states have also provided Kiev with 1,300 missiles since March 20.
"At this rate, we'll be able to achieve our target of 1 million," the diplomat predicted.
According to anonymous officials cited by Politico, the total value of the donations has come to approximately €860 million ($926 million).
The EU has promised to reimburse roughly half of that sum, earmarking €1 billion to that end.
Brussels' plan consists of three stages, with the current, first one envisaging the allocation of ammunition from member states' own existing stocks. The second phase calls for countries to chip in and jointly purchase more shells from European defense manufacturers. The final stage of the plan is aimed at boosting the bloc's overall capacity to produce ammunition and military equipment.
The EU has already set aside another €1 billion for the second phase.
Earlier this month, Borrell revealed that "total EU military support to Ukraine" had reached €5.6 billion ($6 billion).
However, some top-ranking officials, including Estonian Defense Minister Hanno Pevkur and his German colleague Boris Pistorius, expressed doubt on Monday as to the ability of European arms producers to ramp up production quickly enough.
Last month, the New York Times published a report, claiming that Western nations were falling short in their efforts to provide Ukraine with the necessary amounts of weapons and munitions. The paper also warned that it would take EU and US industries "years to catch up with the demand" of Kiev, which is "essentially limitless.
Around the same time, Ukrainian Foreign Minister Dmitry Kuleba called on EU countries to speed up deliveries.
Meanwhile, Russia has repeatedly warned that ever-expanding Western military support for Ukraine only serves to prolong the bloodshed, and could potentially lead to a direct confrontation between Russia and NATO.
You can share this story on social media: