Hungary blocks €500-million payment to Ukraine – media
Budapest reportedly wants the EU to spend money elsewhere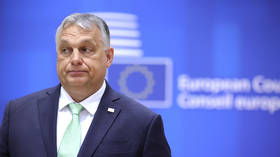 Hungary has blocked the transfer of €500 million ($544 million) worth of arms and military equipment from the EU to Ukraine, Italy's ANSA news agency reported on Monday. With Kiev scrambling for Western arms to bolster its long-promised counteroffensive against Russian forces, the package was supposed to be sent next week.
If approved it would represent the eighth drawdown for Ukraine from the European Peace Facility (EPF), a €5.6 billion ($6.08 billion) fund that the bloc uses to finance foreign militaries and reimburse its own members who send arms to foreign conflicts. Prior to last February, the 'Peace Facility' had only been used to supply non-lethal equipment to Georgia, Mali, Moldova, Mozambique, and Ukraine, for a total of less than $125 million.
Budapest refused to authorize the latest transfer unless it received "guarantees" that the EPF would remain "global" in its scope, and not be used solely to arm Ukraine, ANSA reported, citing "an informed source."
That Hungary would block the supply of arms to Kiev is not surprising. While Hungary is a member of NATO, Prime Minister Viktor Orban has refused to allow the US-led bloc to send weapons to Ukraine via Hungarian territory. Orban has accused the US and his fellow NATO allies of stoking the conflict "at the expense of European interests," while his government supports a Chinese plan aimed at resolving it diplomatically.
Late last year, Hungary held up an €18 billion ($19.5 billion) tranche of economic aid for Ukraine, which the bloc would have borrowed on global markets. Orban argued that by doing so, the EU would have become "indebted" over Ukraine. He eventually relented when the bloc lifted a freeze it had placed on grant money for Hungary.
In January, Hungary also blocked the release of the seventh tranche of EPF arms for Ukraine, although the package was approved several weeks later.
Ukrainian President Vladimir Zelensky has repeatedly called on the West to supply him with heavier weapons and more ammunition ahead of a much-vaunted counteroffensive against Russian forces. Zelensky toured Italy, Germany, the UK, and France in recent days and secured further promises of aid from all four, but he still insists he needs fighter jets and longer-range missiles to make good on his promise to retake the Russian territories of Kherson, Zaporozhye, Donetsk, Lugansk, and Crimea.
American military officials have publicly expressed doubt that the Ukrainian military can achieve these goals, and leaked Pentagon documents suggest that Washington is bracing for the failure of Kiev's offensive.
You can share this story on social media: