Pentagon loses a million F-35 parts
Investigators have found that the US military can't account for missing fighter-jet components valued at $85 million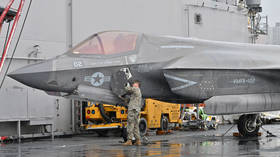 The US Department of Defense (DOD) has been unable to account for about 1 million missing spare parts for its F-35 Lightning II fighter jet, the costliest weapon system in the nation's history, a government review has found.
The lost parts, which include such items as bolts, tires, and landing gear, are valued at about $85 million, the Government Accountability Office (GAO) reported on Tuesday. Since 2018, the Pentagon has reviewed the circumstances surrounding only 2% of identified parts losses.
"Without DOD taking steps to ensure that these spare parts are accountable under a contract, the F-35 Joint Program Office (JPO) will be unable to either gain or maintain accountability over these spare parts and will not have data, such as locations, costs, and quantities, needed for financial reporting or to ensure that government interests are protected," the GAO said.
The spare parts are stored around the world for use on the F-35 by the US military and allied nations that have purchased the aircraft, which is made by defense contractor Lockheed Martin. Because the Pentagon's F-35 JPO lacks a process for tracking losses, Lockheed Martin hasn't reported on over 900,000 additional spare parts valued at more than $66 million for review, the GAO said.
The GAO's report marks just the latest black eye for the $1.7 trillion F-35 program, which has been plagued by reliability struggles, including an issue with engine vibration that led to a global recall order in March. Only about 30% of America's F-35 fleet is "fully mission capable" on any given day. US Air Force Lieutenant General Michael Schmidt warned last month that a thin supply of spare parts could jeopardize the ability of American forces to keep the aircraft in service during the country's next major war.
The GAO report blamed the parts losses partly on the Pentagon's failure to oversee components that are owned by the DOD and managed by contractors. DOD officials and the contractors haven't reached an agreement on whether the parts should be categorized as government-furnished property, which hinders the processing of lost inventories.
As of last October, the Pentagon had over 19,000 spare parts globally that had been awaiting disposition instructions from the F-35 JPO – for as long as five years in some cases. The GAO said the DOD agreed with its four recommendations on beefing up accounting for the parts pool.
You can share this story on social media: