US general fears fighter jet risk– media
A top Air Force officer has warned that parts shortfalls might threaten availability of the F-35 in a major conflict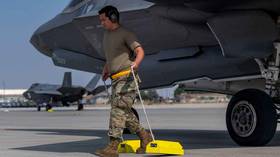 The 'just-in-time' supply chain that provides the parts used to make America's F-35 fighter jets could jeopardize the ability of US forces to keep the aircraft in service during the country's next major war, the officer in charge of the program has reportedly claimed.
The F-35 program will need "a more resilient supply chain to ensure the military can keep it flying in a future, highly contested war," Defense News reported on Monday, citing comments by US Air Force Lieutenant General Michael Schmidt. Speaking at the Navy League's Sea Air Space conference on Monday in Maryland, Schmidt warned that parts shortages could lead to disaster in a major conflict.
"When you have that [just-in-time] mentality, a hiccup in the supply chain, whether it be a strike . . . or a quality issue, becomes your single point of failure," the program chief said. "We need to look at, what does 'right' look like in the future, to give us more resilience in a combat environment."
'Just in time' refers to a distribution strategy used by businesses to maximize profitability by keeping inventory costs to a minimum. The idea is to have supplies ready and in place just when they're needed, rather than being set aside in a warehouse for future use. Such a system works well in the private sector, Schmidt said, but for a military fighting a war in "highly contested environments," it can have disastrous consequences.
Bridget Lauderdale, general manager of the F-35 program for defense contractor Lockheed Martin, said the company has focused more on forecasting demand for the jet so it can anticipate its parts needs more accurately. "A lot of those materials take lead time to prepare, even when you do have funding and even when you have repair capacity," she said.
Schmidt predicted that there will be between 500 and 600 F-35s operating in Europe within the next few years, and fewer than 100 will belong to the US military. "What a huge opportunity that is to leverage each other's logistics and maintenance environments."
Maintenance is a key concern for America's latest fighter jet, given the Pentagon's struggles to keep the aircraft in service. Schmidt acknowledged last week that on any given day in February, an average of just 29% of the US F-35 fleet was "fully mission capable." Just last month, the Pentagon's F-35 Joint Program Office ordered a global recall for the aircraft to fix an engine problem linked to at least one crash. US lawmakers have estimated that it will cost $1.3 trillion to sustain the nation's F-35 fleet, partly because of poor reliability.
You can share this story on social media: