US Air Force chief comments on impact of F-16s in Ukraine
Frank Kendall has acknowledged that American-made fighter jets won't be a "game-changer" for Kiev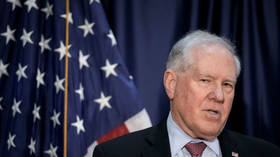 US Air Force chief Frank Kendall has poured cold water on claims that F-16s will have a significant impact in helping Ukraine defeat Russian forces, conceding that the American-made fighter jets won't be a "game-changer" for Kiev because airpower isn't playing a decisive role in the conflict.
The F-16s "will give the Ukrainians an increment of capability that they don't have right now," Kendall said on Monday at an event in Washington. "But it's not going to be a dramatic game-changer, as far as I'm concerned, for their total military capabilities."
After months of saying the US won't be providing F-16s to Kiev, President Joe Biden's administration indicated last week that it would help Ukraine procure the jets. No decision has been made on whether Washington will send the F-16s directly or merely let European allies provide them, US National Security Advisor Jake Sullivan told CNN on Sunday. Either way, the US will support a joint international training program to prepare Ukrainian pilots to fly the jets.
Ukrainian officials have tried for months to persuade their Western benefactors to provide F-16s, arguing that they will have a major impact in the conflict with Russia. In fact, Ukrainian Air Force spokesman Yury Ignat claimed on Saturday that when Kiev adds F-16s to its weaponry, "we will win this war."
However, Kendall said the US-made jets wouldn't alter the balance of power in the Russia-Ukraine conflict because effective air-defense systems would block them from playing a major role in deciding the outcome. He acknowledged that providing F-16s would be "seen by some as an escalatory act on our part."
Russian Deputy Foreign Minister Aleksandr Grushko warned on Saturday that Western powers were taking on "colossal risks" for themselves by continuing to escalate their involvement in the conflict. Biden claimed on Sunday that Ukrainian President Vladimir Zelensky had pledged not to use the F-16s in Russian territory.
Kendall said it would take at least several months to get the jets into Ukrainian hands, but, in any case, the decision to provide them would help enable a shift away from the country's reliance on Soviet-type aircraft.
"Ukraine is going to remain an independent nation," he predicted. "It's going to need a full suite of military capabilities, and so it's time to start thinking longer-term about what that military might look like, and what it might include."
The F-16 isn't among the most advanced US fighter jets. The first version of the aircraft entered service in 1979.
You can share this story on social media: