US media disconnected from public – poll
Americans don't believe narratives on 'Russiagate' or that the Biden family was not engaged in corruption, a poll has suggested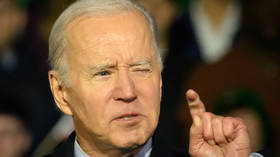 Most Americans believe the 'Russiagate' investigation of Donald Trump was based on lies and that President Joe Biden's family engaged in influence-peddling crimes, a new Harvard CAPS-Harris poll has shown, suggesting that legacy media outlets have failed to sway public opinion.
The poll, released on Friday, found that 56% of US voters believe the claim that Trump colluded with Russia to win the 2016 presidential election was a "false story." The same percentage believe the Steele dossier, which was the basis for an FBI investigation of Trump's campaign, was false.
Nearly seven in ten respondents said they weren't surprised that the Durham Report, released earlier this month, found that the FBI violated its own standards in starting the Trump-Russia investigation and became a funnel for "disinformation" from Democrat candidate Hillary Clinton's campaign. Likewise, 70% of respondents were concerned about interference by the FBI and intelligence agencies in US presidential elections, and 71% believe the federal government needs "wide-ranging reform" to prevent such meddling.
CNN and other US media outlets hyped the Trump-Russia collusion allegations for three years and downplayed last week's release of the Durham Report, calling the special prosecutor's findings about the FBI a "whole big nothing." Just before voters went to the polls in 2020, media outlets amplified claims by former US intelligence officials that a bombshell report on alleged influence-peddling by Biden's family – sourced to a laptop computer that Biden's son, Hunter Biden, had abandoned at a repair shop – was based on "Russian disinformation."
Further, 63% of respondents believe Hunter Biden engaged in illegal influence-peddling and tax evasion, while 53% think Joe Biden was involved while he was vice president. Most (55%) also believe that the FBI and the US Department of Justice aren't really investigating the Biden family's alleged corruption, and 59% think the Russian disinformation claim false.
Independent journalist Glenn Greenwald said the poll illustrated how "radically out of touch" liberal corporate media was with the views of Americans. He added that major media outlets were not only pushing narratives that Americans didn't believe, but also didn't permit the majority's views to be heard.
The poll found other troubling opinions on Biden's 2024 election prospects. Nearly two-thirds of would-be voters (65%) believe Biden is showing signs that he's too old to be president, while 57% have doubts about his mental fitness, and 61% think he wouldn't make it through a second term.
Trump is the current frontrunner for the Republican Party's 2024 nomination and is widening his lead over Biden in a hypothetical rematch. The poll found that voters favor the former president over his successor by a 47%-40% margin, up from a five-point lead last month. If Vice President Kamala Harris becomes the Democratic Party's nominee, Trump's margin is predicted to extend to 50%-39%.
You can share this story on social media: