German military to sell tons of toilet paper
The Bundeswehr decided to jettison inventory that does not fit new dispensers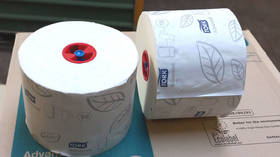 The German military is auctioning off nearly 10,000 rolls of toilet paper that do not fit new dispensers at Bundeswehr facilities, local media reported on Monday.
According to a posting on the Vebeg online auction platform, which was picked up by the German TV network RTL, the Bundeswehr is offering a total of 12 pallets of toilet paper stored in 360 boxes that has a transport weight of over 3 tons.
While it is unclear when exactly the ad was posted, the auction is scheduled to last until May 31. The winning bidder will be able to pick up the toilet paper, which was produced by the Sweden-based company Tork, at the military barracks in the city of Wesel, not far from Munster in the northwestern part of the country.
Potential buyers will need to register with the military department where the inventory is being stored before coming to the premises to pick it up or view it, the ad reads.
The German military told RTL that the sale was due to having switched the toilet paper dispensers at Bundeswehr sanitary facilities to pieces made by a different company.
"However, the toilet paper from the first company cannot be used in a universal hygiene dispenser," a Bundeswehr spokesman told the outlet.
According to RTL, the German military has also put printer toners, desks, and laptops up for sale.
The state of the Bundeswehr stocks of weaponry and other equipment and amenities has been an issue of concern in Germany. In March, Eva Hogl, who serves as the country's parliamentary commissioner for the armed forces, claimed that the Bundeswehr "has too little of everything and it has had even less since February 24, 2022," referring to when Russia started its military campaign in Ukraine. Since then, Berlin has provided massive military and economic support to Kiev.
She noted that the German army also lacked "functioning toilets, clean showers... indoor sports facilities, troop kitchens… and last but not least, wireless internet."
Hogl also pointed out that the government had failed to spend any of the money from a €100 billion ($108 billion) special defense fund created last year in light of the Ukraine conflict.
You can share this story on social media: