US State Department offers counseling to staff after 'pronoun glitch'
An email error led to employees being assigned random gender pronouns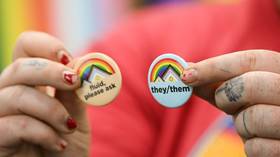 The US State Department has offered free therapy to employees who were "hurt or upset" when the email system misgendered them with random "he/him" or "she/her" pronouns. Amid its embrace of all things LGBT, the State Department now reportedly requires all employees to list their pronouns in their email signatures.
The pronoun debacle began on Thursday, when Associated Press reporter Matt Lee told State Department deputy spokesman Vedant Patel that shortly before the day's briefing, he had received emails from department employees in which random gender pronouns had been added to the sender's name in the 'from' field.
Some of these were wrong, with "he/him" pronouns added to female employees and vice versa, and Lee pressed Patel on why the inclusion of pronouns was "mandatory" in the first place. Patel said that he would "look into" the error, and did not deny that the policy was mandatory, stating only that staff could choose which pronouns suited them best.
In a tweet later on Thursday, State Department spokesman Matthew Miller said that "issues with user profiles on Microsoft Outlook" had caused the error.
In an email that went out to employees on Friday, State Department information officer Kelly Fletcher said that anyone "who feels hurt or upset" by the glitch will be offered free counseling, the Washington Free Beacon reported.
Fletcher said that the pronoun feature was being tested when it "inadvertently went live, and a large number of employees had randomly assigned pronouns added to their profiles."
"I deeply regret the confusion and distress this mistake caused our workforce," she added.
Two years ago, the State Department was ridiculed by conservatives for a tweet celebrating 'International Pronouns Day', which linked to an article informing readers about "gender-neutral pronouns such as ze/zir/zirs."
Under the administration of President Joe Biden, the US' diplomatic corps has continually pushed gender ideology around the world. US embassies – including in conservative societies such as Botswana and Albania – posted tweets on Wednesday in honor of "International Day Against Homophobia, Biphobia and Transphobia," while the US embassy in Brazil marked the day by releasing a video informing Brazilians that "there is a range of gender identities beyond male and female," and instructing them on the use of "xe/xem" and "per/pers" pronouns.
You can share this story on social media: