Posters likening Macron to Hitler probed
The offenders will be punished for insulting the president, French officials have said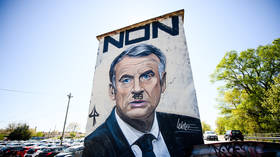 Authorities in the French city of Avignon have opened an investigation after posters appeared on the streets comparing President Emmanuel Macron to Adolf Hitler, AFP reports, citing the office of the city's public prosecutor, Florence Galtier.
According to officials, the offenders will face two months in prison and a fine of €7,500 ($8,110) for "provocation to rebellion," as well as a fine of €12,000 for insulting the president.
Around 30 anti-Macron posters glued to advertising boards were discovered on Thursday. They showed the French president with graying hair and the number 49.3 on his face, which looked like a small black mustache. It is a reference to Article 49.3 of the French Constitution, which the government invoked in March to ram through controversial pension reform without securing the support of the parliament (the National Assembly).
According to French media, the posters included a quote from Mahatma Gandhi about the "sacred duty" of civil disobedience against a "lawless or corrupt" state.
The posters are a reproduction of a mural painted by a local graffiti artist in an Avignon parking lot last month. The mural was quickly destroyed at the request of the local authorities.
Macron's pension reform, which will gradually raise the retirement age from 62 to 64, has sparked protests in Paris and other cities, some of which spiraled into riots and clashes with police. The use of Article 49.3 was sharply criticized by the opposition.
In 2021, a billboard owner was fined €10,000 for depicting Macron as Hitler in protest against Covid-19 restrictions.
You can share this story on social media: