Protesters face prison for flipping off Macron
Three demonstrators are charged with contempt of a person holding public authority and could be jailed for a year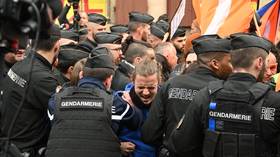 Three protesters from the commune of Selestat, near the German border, face criminal charges after making obscene gestures at French President Emmanuel Macron during his visit to the town last Wednesday. The trio have pleaded guilty to contempt of a person holding public authority, prosecutor Catherine Sorita-Minard of the nearby town of Colmar announced on Saturday.
For giving their leader "le doigt" – the middle finger – the two men and a woman may be punished with up to a year in prison and €15,000 fine. The protestors, none of whom have any criminal history, are between the ages of 23 and 42. They will go to trial in September. A fourth person was also arrested but has not been charged due to insufficient evidence, Sorita-Minard said.
Macron has faced strong opposition as he travels the country trying to convince his constituents of the merits of the pension reform package he signed into law earlier this month in the face of opposition from two thirds of the electorate. The law raises the retirement age by two years and extends the period of employment necessary to receive a full pension.
Protesters banging on pots and pans have drowned out the president's speeches at appearances throughout the Alsace region. Police in the village of Ganges actually confiscated saucepans from the backpacks of demonstrators, declaring them forbidden "portable sound devices" based on a regulation hurriedly passed just hours before Macron arrived, and the president has reportedly been forced to travel with a generator truck due to unions shutting off power to the areas where he is speaking.
Last month, a Yellow Vest protester from St. Martin with no criminal history was charged with contempt of a person holding public authority for allegedly writing "Macron ordure" (Macron trash) on a wall in Arques and referring to the president as trash in a social media post. Last week, French publisher Ernest Moret was arrested on anti-terrorism charges upon his arrival in London for his alleged involvement in protests at home.
Macron's approval ratings hit rock bottom last week, with just 26% of respondents to a BVA poll for RTL voicing a favorable opinion of the president. He has nevertheless vowed not to back down on pension reform, ordering his government to "restore peace" over the next 100 days. At the same time, the protesters have vowed to stand their ground, promising "100 days of action and anger" and threatening to cut the power to major events such as the Cannes film festival and the Monaco Grand Prix.
You can share this story on social media: