Erdogan evades question on whether Biden wants to topple him
The Turkish president had previously accused the US leader of ordering his ouster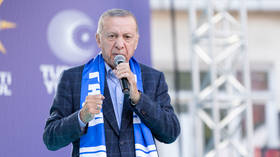 Turkish President Recep Tayyip Erdogan avoided giving a direct response when pressed by CNN on Friday on whether he believes that Washington is trying to unseat him. Instead, he criticized US President Joe Biden for viewing him as a "dictator."
Erdogan, who is vying for another presidential term in a runoff election, accused the US leader of plotting his demise last week. "Biden gave the order to topple Erdogan, I know this. All my people know this," he told a rally in Istanbul ahead of election day.
The Turkish leader appeared to be referring to statements made by Biden in January 2020, when he said Washington should encourage Erdogan's opponents to defeat him in an election instead of ousting him in a coup. Ankara later condemned the comments as "interventionist."
In the interview with CNN on Friday, Erdogan left the question of US involvement unanswered, noting instead that he is following democratic procedures in the election.
"How could someone who is going into a runoff election instead of [winning] the election in the first round be a dictator? That is the reality."
If re-elected, he vowed to work with Biden or anyone else who assumes control of the White House, while also criticizing the US and its allies for their attitude towards Russia, saying the West is not taking a "balanced approach" in its relations with Russia. He added that Türkiye has a "special relationship" with Russian President Vladimir Putin, which helped in extending the Black Sea grain deal.
The Turkish leader also said that Türkiye's independent foreign policy relies on close ties with Moscow. "Russia and Türkiye need each other in every field possible."
Erdogan is seeking his third consecutive term as president. He received the most votes in the presidential election last weekend, but fell short of the absolute majority needed to win in the first round. He will now face opposition leader Kemal Kilicdaroglu in a runoff vote on May 28.
Kilicdaroglu vowed to mend Ankara's ties with NATO and restart membership talks with the EU. Erdogan accused him of seeking to "detach" Türkiye from Russia.
You can share this story on social media: