China accuses US of weaponizing tech issues
Washington's goal is to impede the development of foreign states, Beijing said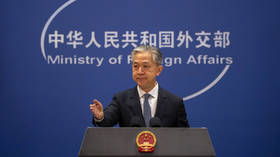 The US is attacking Chinese companies and scientists as part of its efforts to foil the technological development of other countries, Chinese Foreign Ministry spokesman Wang Wenbin claimed on Wednesday.
During his regular press conference, Wang argued that the Disruptive Technology Strike Force set up by the US Justice Department (DOJ) in February was designed to "abuse export control regimes."
"The US has politicized, instrumentalized and weaponized tech issues, and sought to thwart other countries' technological advancement," Wang said.
The spokesman urged the US to abandon "the outdated Cold War mentality," and to "stop abusing judicial power to target Chinese researchers." He stressed that Beijing would "firmly safeguard the lawful rights and interests of Chinese citizens."
Wang's comments came after the DOJ announced on Tuesday that two unnamed former software engineers had been arrested for allegedly stealing material from US tech companies in order to "market it to Chinese competitors." According to the DOJ, one of the engineers is a Chinese citizen.
The White House has repeatedly accused Beijing of technology theft and of using telecommunications companies such as Huawei and the video-sharing service TikTok for espionage. China has denied the allegations and accused the US of trying to subvert competition in the global IT market.
On Wednesday the state of Montana enacted an all-out ban on TikTok. The service has been restricted in at least 25 other US states and within the federal government, which have barred the app on official devices.
Huawei was placed on a US trade blacklist in 2019, with most American suppliers barred from shipping goods and technology to the company unless they were granted licenses. The measure is aimed at cutting off the Chinese company's ability to buy or design the semiconductor chips that power most of its products.
Tensions between the US and China, the world's two largest economies, have been on the rise as they compete for domination in key technologies, including semiconductors. In October, the Biden administration unveiled sweeping restrictions on China's ability to buy semiconductors and chip-making equipment, placing the country's companies on a list for further scrutiny.
You can share this story on social media: