Ex-German chancellor's wife fired for attending WWII victory celebration
So-yeon Schroeder-Kim was dismissed after visiting the Russian Embassy in Berlin to commemorate the defeat of the Nazis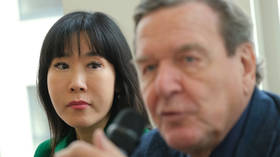 The wife of former German chancellor Gerhard Schroeder, So-yeon Schroeder-Kim, has been fired from her position at NRW, a business development agency, after visiting the Russian Embassy in Berlin to celebrate Victory Day.
"Ms. Schroeder-Kim has been released with immediate effect, and the employment relationship will now be terminated by NRW.GlobalBusiness without notice," a spokeswoman for NRW told German media on Tuesday.
The company explained that it had on several occasions explicitly told Schroeder-Kim, who worked there as a representative for South Korea, that she should "not speak out in public on politically sensitive topics," particularly with regard to Russia and the situation in Ukraine.
The move comes after Schroeder-Kim and her husband visited the Russian Embassy on May 9 to attend a reception dedicated to the 78th anniversary of the defeat of Nazi Germany in World War II. The event was also attended by other German politicians, including co-chairman of the right-wing populist Alternative for Germany (AfD) party Tino Chrupalla, and chairman of the Bundestag committee on climate protection and energy and member of the Left Party Klaus Ernst.
Schroeder himself has also faced backlash for maintaining close ties with Moscow. The former chancellor forged friendly relations with Russia during his time in office between 1998 and 2005, and subsequently joined the boards of Nord Stream and Rosneft respectively.
Although Schroeder has repeatedly spoken out against Russia's offensive in Ukraine, he has also expressed doubt that distancing himself from Putin "would do any good." Shortly after Moscow launched its military campaign, Schroeder personally traveled to Moscow to meet with Putin. He has insisted since that Russia sought a negotiated solution to the ongoing conflict and had vowed to keep seeking "opportunities to talk to President Putin."
The former chancellor's stance has put him at odds with other members of the ruling Social Democrats Party (SPD), some members of which have recently unsuccessfully demanded his expulsion. The SPD did, however, manage to strip the former leader of his parliamentary privileges last year.
Under current German Chancellor Olaf Scholz, the SPD has sought to reduce the country's ties with Russia and its reliance on Russian energy. Berlin, under Scholz's leadership, has also sent billions of dollars worth of military aid to Kiev's forces.
You can share this story on social media: