Rushdie slams book publishers over censorship
Making James Bond politically correct is "almost comical," the author of 'The Satanic verses' insisted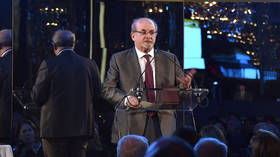 British author and freedom of expression advocate Salman Rushdie has blasted publishers who amend old books with the stated goal of protecting modern readers from being offended. He argued that oversensitive readers can always opt for something else.
Rushdie addressed the issue on Monday evening while receiving the prestigious British Book Award for Freedom to Publish. In his televised acceptance speech, which he delivered via a video link from New York, the writer sounded the alarm over what he perceives as a growing acceptance of censorship in Western nations.
In the US, he said, he noted "the extraordinary attack on libraries and books for children in schools, the attack on the idea of libraries themselves." Conservative lawmakers in some American states have sought to purge from school libraries books that they consider inappropriate for minors, as they depict sexual relations and other mature content.
"I have to say it's also been alarming to see publishers looking to, how should I put this, burglarize the works of such people as Roald Dahl and Ian Flemming," Rushdie added. "I have to say the idea that James Bond can be made politically correct is almost comical."
Books by both authors have been scrubbed for their new editions to remove supposedly offensive language.
Last year Roald Dahl's children's classics, including 'Charlie and the Chocolate Factory' and 'Matilda', were stripped of some words, such as "fat" and "ugly", in a move that Rushdie blasted as "absurd censorship" at the time. The publisher later agreed to print the original versions in addition to the updated versions, after a public outcry.
Following the same pattern, the James Bond books had negative language about African criminals removed, according to British media. Publishers are now hiring "sensitivity readers" to flag supposedly problematic language in literary works.
"I think this has to be resisted. Books have to come to us from their time and be of their time, and if that's difficult for you to take, don't read them, read another book. But don't try to remake yesterday's work in the light of today's attitudes," Rushdie argued.
The Indian-born author, 75, has drawn headlines after several attempts were made on his life, including a stabbing last year on a stage in New York. Since 1988 Rushdie has been subjected to death threats over his book 'The Satanic Verses,' which has been branded blasphemous by some adherents of Islam.
You can share this story on social media: