France not ready to send jets to Ukraine – Politico
An anonymous official in Paris has reportedly said the focus is on land operations and air defense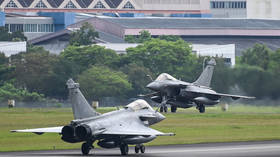 The French government believes it is too early to discuss the delivery of fighter jets to Ukraine, Politico has reported. President Emmanuel Macron did pledge to provide Kiev with dozens more armored vehicles during a weekend meeting with Ukrainian counterpart Vladimir Zelensky.
In an article on Sunday, Politico quoted an anonymous official from Macron's office as saying that "what Ukraine needs is combat equipment, armored vehicles, tanks, artillery." In addition, Paris will heed Kiev's calls to supply more air defense systems, the source stated.
When asked whether France was considering sending fighter jets to Ukraine, the official dismissed the issue as "a bit premature," stressing that the focus should currently be on land operations and air defense.
President Zelensky paid a surprise visit to the French capital late on Sunday, fresh from meetings with Italian Prime Minister Giorgia Meloni on Saturday and German Chancellor Olaf Scholz.
After a three-hour dinner, Macron and the Ukrainian leader issued a joint statement detailing Paris's plans to "train and equip several battalions with tens of armored vehicles and light tanks, including AMX-10RCs [fighting vehicles]."
Zelensky had secured a €2.7 billion ($2.94 billion) package of military aid while in Berlin earlier in the day.
He expressed hope that Ukraine would end the conflict this year by defeating Russian forces, while revealing that Kiev is "working on the creation of a coalition of combat aircraft."
Zelensky's administration has increased its calls for Western-made military aircraft in the past several months, although those requests have yet to be granted. Several NATO member states have provided Ukraine with Soviet-designed fighter jets instead.
Russia has repeatedly warned Western nations that by providing Kiev with more advanced weapons, they risk getting dragged into a direct military confrontation. Moscow has also insisted that no amount of Western military aid will deter Russia from achieving its goals in Ukraine.
You can share this story on social media: