Legal fund for US subway vigilante raises $1.8 million
Supporters have given money to help defend ex-soldier Daniel Penny in a case over a chokehold that left a New York City man dead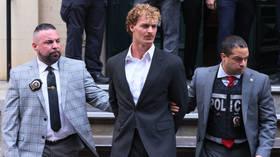 Online donors have chipped in nearly $1.8 million combined to fund the legal defense of Daniel Penny, a former US Marine Corps soldier who faces a manslaughter charge after allegedly choking a homeless man to death on a New York City subway train.
Lawyers for Penny launched the fund-raiser on crowdfunding platform GiveSendGo.com and had brought in more than $1.79 million as of Sunday afternoon. An explanation for the campaign claimed that Penny, 24, faces a criminal investigation stemming from "him protecting individuals on a NYC subway train from an assailant who later died."
Any proceeds in excess of the amount necessary to fund legal costs will be donated to a mental health advocacy program, according to the posting. Raiser & Kenniff, the law firm representing Penny, has blamed the incident on a mental health crisis that elected officials have failed to address. The firm said 30-year-old Jordan Neely was "aggressively threatening" subway passengers when the Marine veteran took action to protect himself and others.
"Daniel never intended to harm Mr. Neely and could not have foreseen his untimely death," the firm said. Neely had a documented history of violent and erratic behavior, the lawyers added. He had reportedly been arrested 42 times between 2013 and 2021, including at least four cases involving alleged assaults.
Penny was charged with second-degree manslaughter on Friday and was released on bail, pending his trial. The incident occurred on May 1. Activists held protests in the days that followed – blocking subway tracks in at least one case – decrying the absence of criminal charges as racial injustice. The Workers World Party condemned the "heinous murder" as a case of "white vigilantism." Penny is white, while Neely is black.
On the other side of the political spectrum, Republican politicians such as Florida Governor Ron DeSantis and US Representative Matt Gaetz have defended Penny as a "good Samaritan" and a "hero."
The case has emerged as yet another battleground in America's culture war, much like the failed prosecution of Kyle Rittenhouse, the then-teenager who fatally shot two people and injured a third during an August 2020 Black Lives Matter riot in Kenosha, Wisconsin. Like Penny, Rittenhouse was financially backed by online supporters, who donated $2 million to post his bail so he could be released from jail while awaiting trial.
Penny's donors clearly see him as more of a hero than a villain. An anonymous donor who gave $10,000 said, "Thank you for protecting the citizens that day." A $2,000 contributor said she had been terrorized by "mentally disturbed people," and no one defended her. "I wish there were more people like you."
Hero Marine Daniel Penny and another man who appears to not be Lilly white render aid to the psychopath who terrorized subway passengers for over 10 years. Other passengers thank them and offer advice on how to help. The media will not show this video. https://t.co/8RRpx7Pa6F

— Cernovich (@Cernovich) May 8, 2023
You can share this story on social media: