NY hotels evict veterans to house migrants – media
New York City had reportedly promised not to send migrants upstate after vehement protest from local governments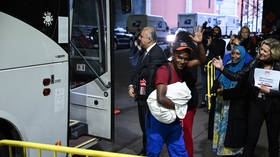 Twenty homeless veterans were kicked out of hotels in Newburgh, New York where they had been given temporary shelter, in order to make way for illegal immigrants bused north from New York City, veterans' advocates told local media on Friday, eliciting outrage from across the political spectrum.
"Over the last week, many of our homeless veterans… were informed that they had to leave their temporary housing," Sharon Toney-Finch, CEO of the Yerik Israel Toney Foundation, told Mid Hudson News on Saturday, explaining that the affected veterans were staying in "several hotels that were preparing to receive migrants from New York City."
The veterans were due to stay for a month at the hotels while permanent housing was secured, only to be shown the door two weeks into their stay, according to Toney-Finch.
Local politicians were outraged at the report. Republican Assemblyman Brian Maher of Walden promised to introduce legislation that would "prohibit the displacement of homeless veterans from shelters or supportive housing," while Democratic Congressman Pat Ryan and Republican Congressman Marc Molinaro agreed the eviction "will not be tolerated."
Last week, New York Mayor Eric Adams threatened to ship more than 300 single male migrants upstate to Orange and Rockland counties, eliciting howls of protest from locals. Despite subsequently promising both state and local officials that the plan had been paused, the city sent two buses full on Thursday – without even informing local police, according to Orange County executive Steve Neuhaus.
Neuhaus last week declared a state of emergency regarding the migrant influx, forbidding any local hotels from housing them and claiming the city was handing out pamphlets advertising the benefits of suburban living in Orange County. He has since sued two Newburgh hotels for violating his executive order, in addition to three more lawsuits seeking to bar the city from sending migrants north.
Rockland County executive Ed Day declared his own state of emergency on Friday, after promising to "grab [Adams] by the throat for the people of Rockland County" if he persisted in an earlier plan to dump 340 migrant men on local hotels.
While Adams has promised to fund four months of room and board for every migrant he sends to the suburbs, the city has run out of space to house the tens of thousands of migrants it has welcomed in the last year. 'Asylum seeker costs' are expected to eat up $4.3 billion of the city's money through the end of fiscal year 2024, according to Adams' budget released last month.
You can share this story on social media: