British next-gen warship 'sabotaged'
A probe was launched into suspected "intentional" damage aboard the frigate HMS Glasgow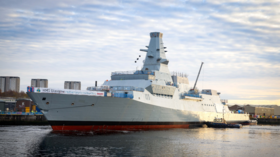 British defense contractor BAE Systems is assessing the scope of repairs needed following an alleged act of sabotage on the Royal Navy's newest frigate, which is still under construction.
"We uncovered a limited number of cables on HMS Glasgow earlier in the week, which appear to have been damaged intentionally," a spokesperson for the company responsible for the construction and fitting out of the ship said in a statement to the media on Friday.
The company added that it had suspended work on the frigate in order to "inspect every area of the vessel and ensure our high standards and quality controls are met."
According to the UK Defence Journal, which first reported the incident, more than 60 cables were cut aboard the vessel. The publication said it is believed that "an issue related to payment disputes" could have been the motive.
HMS Glasgow is the first of the next-generation City-class frigates currently being built in the UK. The Royal Navy describes them as "exceptional ships" designed to carry helicopters and smaller vessels. The Glasgow was launched in December and is expected to enter service in the mid-2020s. The ship is currently docked at a yard in Scotstoun, a suburb of Glasgow, Scotland.
In February, the Royal Navy launched an investigation after the media reported that the cooling system aboard the nuclear-powered submarine HMS Vanguard had been repaired using super glue.
You can share this story on social media: