New Twitter CEO under fire for Davos Forum links
Linda Yaccarino, Elon Musk's hand-picked successor, chairs the World Economic Forum's media taskforce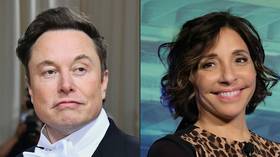 Incoming Twitter CEO Linda Yaccarino has come under attack for her influential position at the World Economic Forum, the annual conclave of business and government leaders in Davos, Switzerland. She has also been the subject of criticism for her work with the administration of US President Joe Biden, following Friday's announcement that she would lead business operations on the social media platform.
Yaccarino, who previously led NBCUniversal's Advertising Sales business, also serves as executive chair of the World Economic Forum's Taskforce on the Future of Work. She holds a senior position on the forum's Media, Entertainment and Culture Industry Governors Steering Committee and its Value in Media Initiative as well. While she resigned her position at NBC on Friday, her WEF responsibilities remain current on her LinkedIn account as of Saturday.
Yaccarino also chairs the Ad Council, a powerful advertising industry group, and collaborated with the White House to promote Covid-19 vaccines in 2021 with a PR campaign whose title – 'It's up to you' – would prove ironic given the Biden administration's later shift toward mandating the jabs.
Twitter users, disturbed by Yaccarino's apparent globalist pedigree, surfaced a clip from last month showing her leaning on Musk to make Twitter a more advertiser-friendly platform. In the video, she pushes Musk to bring back the platform's advertising influence council, a quarterly meeting between Twitter execs and the top three dozen advertisers, and struggles to extract a promise to stop "tweeting after 3am."
Musk reportedly met with the advertising council once after taking over as CEO in November, but has not reconvened the group since. Twitter lost many of its advertisers following the takeover, supposedly due to his loosening of content moderation policies.
The WEF has been the focus of feverish speculation in recent years. Often dismissed as 'conspiracy theory', founder Klaus Schwab's pamphlet 'The Great Reset', published in 2020, describes how the Covid-19 pandemic can be used to trigger the reorganization of traditional societies into a globalist technocratic utopia (or dystopia, depending on one's position).
Despite his on-again off-again status as the world's richest man, Musk has been publicly dismissive of the WEF, claiming last year he had been invited to the forum but declined to go, and describing the conference as "an unelected world government that the people never asked for and don't want."
Twitter users flooded Musk's timeline with questions about his CEO pick, demanding to know why the self-proclaimed critic of the "woke mind virus" had embraced a "WEF puppet" with a history of promoting "diversity, equity and inclusion" and other establishment canards.
You can share this story on social media: