UK to push on with army downsizing – Times
Defence Secretary Ben Wallace reportedly wants to stick to the plans drawn up prior to the Ukraine conflict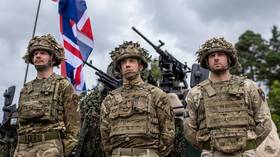 UK Defence Secretary Ben Wallace will press ahead with plans to reduce the size of the British Army despite the consequences of the Ukraine conflict and increased military spending by the government, The Times reported on Friday, citing sources.
In 2021, the Defense Ministry announced plans to decrease the number of troops from 82,000 to just over 70,000, while cutting the number of tanks from 227 to 148. However, due to the ongoing conflict between Moscow and Kiev, the idea of downsizing has made many UK MPs and military commanders uneasy, with Patrick Sanders, the head of the army, calling it "perverse" in the context of a major conflict in Europe.
Despite these concerns, and with the UK's NATO allies scrambling to boost their militaries, British ministers are said to believe that London "is not under significant pressure to change course." The matter is expected to be addressed in a defense command paper scheduled for release in June.
The UK government still plans to reduce the number of infantry personnel in favor of artillery, according to Times.
"We have too much infantry – a legacy of the counter-insurgency wars in Afghanistan and Iraq. We need more artillery. The jury is out on whether you need main battle tanks," a government source told the outlet.
Another army source told The Times that "the main lesson from Ukraine is you need mass," adding that "the truth is we don't have enough infantry and we don't have enough artillery."
In March, UK Prime Minister Rishi Sunak said the defense budget would swell by £5 billion ($6.2 billion) over the next two years, with additional funds meant to both replenish stocks of arms sent to Ukraine and modernize the nuclear arsenal.
This comes amid warnings that the UK would not be up to the task if it had to fight with a near-peer adversary. Wallace himself said in January that the army is "hollowed out and underfunded." In February, retired General Richard Barrons said in an op-ed for The Sun that the UK could run out of ammo within hours in case of a major conflict. He added that the British military cannot currently be regarded as a 'top tier' NATO force.
Amid the Ukraine conflict, numerous Western countries, including Germany, France, and Poland, have boosted their military budgets, with total military expenditure in Europe seeing the steepest year-on-year increase in at least 30 years, according to the Stockholm International Peace Institute.
You can share this story on social media: