US interfering in Türkiye's elections – Ankara
Washington's coup attempt in 2016 failed, but it has now found a new way to try to oust the government, Interior Minister Suleyman Soylu has claimed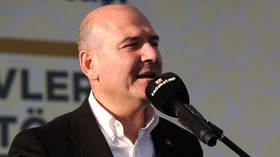 The US is meddling in Türkiye's upcoming presidential and parliamentary elections, Ankara's Interior Minister Suleyman Soylu claimed on Friday.
Speaking to CNN Turk, Soylu weighed in on the decision by presidential candidate Muharrem Ince, who leads the opposition Homeland Party, to drop out of the race on Thursday ahead of Sunday's vote.
Ince attributed his withdrawal to a "slander campaign," which involved the release of an alleged sex tape that he dismissed as fake.
The withdrawal of Ince came amid fears among opposition figures that his candidacy could damage the electoral chances of Kemal Kilicdaroglu, the CHP party chairman, who has emerged as the main rival to incumbent President Recep Tayyip Erdogan.
"America has been interfering in this election from the very beginning. [US President Joe] Biden said that we weren't able to do this with a coup in 2016. This time we will do it with an election, not a coup," Soylu claimed.
"[That's] basic logic. If we pull Ince… we will get the votes that went to him," he noted.
The minister went on to claim that Ince "was attacked in this election from outside." "It is clear who produced it. The perpetrator is the Gulen movement and the US," Soylu added.
Turkish officials have insisted that the unsuccessful attempt to remove the Erdogan government from office in July 2016 was orchestrated by cleric Fethullah Gulen and his supporters. The failed coup, which resulted in thousands of arrests, also significantly strained US-Türkiye relations as Ankara slammed Washington for harboring Gulen.
Türkiye's presidential and parliamentary elections are scheduled for May 14. The race for the presidency is expected to largely be a battle between Erdogan and his main rival Kilicdaroglu. While the incumbent has pursued more conservative and independent policies, steering his country away from integration with the EU and fostering close ties with Russia, Kilicdaroglu champions a more Western-aligned approach.
Recent polls show the two locked in a close race. If neither of the candidates garners more than 50% of the vote in the first round, a run-off will be held on May 28.
In a 2020 interview to the New York Times, prior to being elected president, Biden described Erdogan as an "autocrat." Washington should be "taking a very different approach to him now, making it clear that we support opposition leadership," he added at the time, citing Erdogan's crackdown on Kurds and his cooperation with Russia.
You can share this story on social media: