Ireland visit was to make sure 'Brits don't screw around' – Biden
The US president was critical of London's commitment to Irish affairs following his visit last month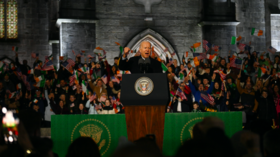 US President Joe Biden said at a Democratic Party event in New York on Wednesday that his four-day visit to Ireland last month was designed to make sure that "the Brits didn't screw around" when it came to London's commitments towards Northern Ireland and its relations with the leadership in Dublin.
"I got to go back to Ireland for the, for the, the Irish accords, to make sure they weren't, the Brits didn't screw around and Northern Ireland didn't walk away from their commitments," Biden told reporters at the event.
His visit to the island, the majority of which was spent in the Republic of Ireland, marked the 25th anniversary of the Good Friday Agreement – the 1998 political deal that brought an end to decades of conflict between predominantly Catholic and Protestant factions in Northern Ireland during which thousands of people lost their lives.
Ahead of the trip, Biden told the media that the purpose of the visit was to "keep the peace" in Northern Ireland. Following a brief meeting with UK Prime Minister Rishi Sunak in Belfast during the initial leg of the trip, the White House released a statement to say that both leaders had "reaffirmed their shared commitment" to the Good Friday Agreement.
Speaking on the campus at Ulster University on April 12, Biden called on Northern Irish lawmakers to re-establish the power-sharing accord which was enshrined in the Good Friday Agreement in 1998. The Northern Ireland Executive collapsed last year after the Democratic Unionist Party (DUP) withdrew in protest over post-Brexit trade rules.
The US president added during his Ulster University speech: "Effective devolved government that reflects the people of Northern Ireland, and is accountable to them, that works to find ways to face hard problems together will grow greater opportunities for the region."
Biden also stated during the visit that he believed Downing Street should work closer with Dublin to support issues in Northern Ireland.
A new Brexit trade deal for Northern Ireland – the Windsor Framework – was greenlit by the UK and EU in March. The DUP has not yet dropped its protest, citing concerns about Northern Ireland being subject to EU trade rules in spite of the UK having left the European Union.
Following Biden's remarks, Downing Street released a statement on Thursday to say that "the UK priority was always protecting the Good Friday Agreement. We are pleased [that] between the UK and EU we have reached an agreement that works."
You can share this story on social media: