Biden fears for US reputation
The United States would become a "deadbeat nation" if it defaulted on its massive $31-trillion debt, the president said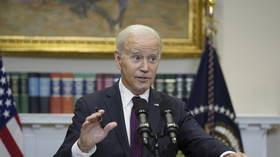 US President Joe Biden has said America's reputation would be "damaged in the extreme" if the government were unable to pay its bills, insisting a default on the national debt is simply not an option.
Addressing reporters after a meeting with congressional leaders on Tuesday, Biden said the sit-down was "productive," noting that all sides agreed to find a "path forward to make sure America does not default" on its world-historic debt.
"Our economy would fall into a significant recession. It would devastate retirement accounts, increase borrowing cost[s]," he said of a potential default, adding that "nearly eight million Americans would lose their jobs" and "our international reputation would be damaged in the extreme."
Calling the debt "the single most important thing that's on the agenda," the president went on to claim that "America is not a deadbeat nation," arguing that it is the "duty" of Congress to raise the debt ceiling in order to avoid a default.
Biden's comments came amid fierce debate between the two major parties over the national debt, with Republicans calling for major cuts to federal spending before they will agree to raise the government's borrowing limit. While the president said he would be willing to discuss the budget, he added he would not do so "under the threat of default."
During a separate briefing after the meeting with Biden, House Speaker Kevin McCarthy, a Republican, said he "asked the president this simple question: Does he not believe there's any place we could find savings?" The speaker added that the discussions would continue this week, and that he would meet with Biden again on Friday.
A default on America's debt would mean the government is unable to meet its outstanding obligations, including welfare payments, interest on the existing debt and even paychecks for members of the military. According to the Congressional Budget Office, federal spending currently exceeds revenues by around $1.4 trillion, a large deficit that will have to be covered by borrowing.
Time is running out for Congress and the White House, however, as the government may be unable to pay its bills as soon as next month should lawmakers fail to strike a deal on the debt limit, which now sits at $31.4 trillion.
You can share this story on social media: