Biden mocks Trump town hall speech
The US president urged his supporters to donate to his re-election campaign unless they want four more years of his 2020 opponent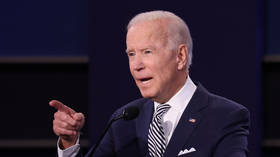 US President Joe Biden has used Twitter to ask his supporters for campaign cash, unless they want Donald Trump to run the country for the next four years. The president's ultimatum came in response to Trump's appearance at a town hall event hosted by CNN on Wednesday, when he attempted to make the case for his third presidential bid.
"It's simple, folks. Do you want four more years of that?" Biden wrote following Trump's televised speech, linking to an ActBlue Joe Biden and Kamala Harris campaign donation page, where people are asked to contribute anything from $10 to $2,000.
As reported by The Hill, following Trump's town hall, Biden's campaign also sent out an email to its subscribers seeking to raise funds with the subject line "So, that happened."
"If you missed Trump's CNN town hall, you're better off for it. But the choice is clear: It's four more years of Trump or four more years of Biden," the email reportedly stated.
On Wednesday, former President Donald Trump sat down for a town hall event with CNN's Kaitlan Collins. He touched on a number of topics, including alleged election fraud, the January 6 Capitol Hill riots, the Ukraine conflict, and US debt.
Trump is currently considered to be the most likely Republican challenger to take on the incumbent president in the upcoming 2024 elections. According to a Washington Post/ABC News survey published on Sunday, Trump is six points ahead of Biden in a potential presidential matchup, while the sitting president's approval ratings have plummeted to a new low.
The survey suggested Biden's approval rating has slipped to a mere 36%, down from 42% in February. Among those aged under 30, his approval was even lower, at just 26%. The president's mental and physical health have also proven to be a concern for voters, with 63% of respondents saying he lacks the mental sharpness to perform his duties as president.
As for Trump, some 44% of American adults said they would 'definitely' or 'probably' vote for him, while 54% believe he handled the US economy better during his presidency than Biden is now.
You can share this story on social media: