Blast rocks Milan – media
Several vehicles were left in flames after the explosion, according to broadcaster SkyTG24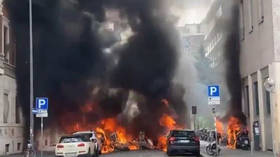 A powerful explosion hit the center of the Italian city of Milan on Thursday, the SkyTG24 news channel has reported.
Several vehicles were left in flames as a result of the incident, the broadcaster said, adding that a van appeared to have exploded on the street.
Photos from the scene showed parked cars burning, giving off a plume of thick black smoke.
La Repubblica newspaper reported at least five cars and four mopeds were destroyed in what it called "domino explosions."
Local media speculated that oxygen cylinders may have exploded in a parked van, with the fire spreading to nearby vehicles and buildings, including a pharmacy. The evacuation of a nearby school was reportedly also ordered.
Fire brigades were quick to arrive on site, but it took them several hours to fully extinguish the blaze.
A spokesman for the fire service said the driver of the van was the only person wounded in the explosion, suffering burns to his hand.
However, local media said an employee of a local school was also injured by shards of glass from windows shattered in the blast.
The oxygen cylinders in the van were reportedly intended for the Italian Auxological Institute, which studies human growth and development.
You can share this story on social media: