FBI stonewalls lawmakers over alleged Biden bribery scheme
The agency is refusing to provide sensitive materials on potential quid pro quo involving the US president and a foreign national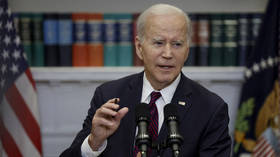 The FBI has declined to provide US lawmakers with law-enforcement documents that some Republicans believe could shed light on alleged criminal business dealings involving US President Joe Biden, according to a letter by a senior agency official released on Wednesday.
Last week, citing information received from a whistleblower, US House Oversight Committee Chairman James Comer (R-Kentucky) and Senator Chuck Grassley (R-Iowa) requested that the FBI produce unclassified records detailing a potential "criminal scheme involving then-Vice President Biden and a foreign national relating to the exchange of money for policy decisions."
The pair had in particular subpoenaed all so-called FD-1023 forms –used by the agency to record unverified reporting from confidential human sources– created or modified in June 2020 that contain the term 'Biden,' as well as other related documents.
"The American people need to know if President Biden sold out the United States of America to make money for himself," Congressman Comer said at the time.
However, Christopher Dunham, acting assistant director for the FBI's office of congressional affairs, poured cold water on this request. In a letter on Wednesday, the official said that it was "critical to the integrity of the entire criminal justice process… that FBI avoid revealing information" that could harm investigations, lead to prejudiced judicial proceedings, or create misimpressions among the public.
Dunham also pointed out that "information from confidential human sources is unverified and, by definition, incomplete," adding that there are strict rules about when and how such information could be provided outside the agency.
The two GOP members blasted this response, noting, however, that it indicated that the subpoenaed document indeed exists. "So, the question remains, what did the FBI do to investigate very serious allegations from an apparent trusted FBI source implicating then-Vice President Biden?" Senator Grassley said.
The US president found himself in hot water in March after the Republican-controlled House Oversight Committee claimed, citing bank records, that several members of the Biden family had received large payments from Chinese energy company CEFC. The Committee undertook to investigate what it called "suspicious business schemes" and to determine whether President Biden was compromised and whether there was a threat to US national security.
Biden himself dismissed the allegations as "not true" while the White House spokesman accused the Republicans of "bizarrely attacking" the president's family.
You can share this story on social media: