Australian lawmakers call on US to drop Assange extradition bid
The WikiLeaks founder is facing 175 years in prison if convicted of espionage charges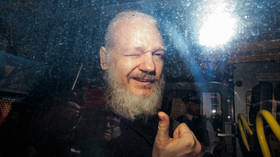 A delegation of Australian lawmakers called for the United States to end its attempts to extradite and prosecute Julian Assange during a meeting with US Ambassador Caroline Kennedy in Canberra on Tuesday.
The 'Bring Julian Assange Home Parliamentary Group' informed Washington's chief diplomat in Australia that its citizens had expressed "widespread concern" at the continued detention in Britain of the WikiLeaks founder, who is an Australian national, as well as attempts to extradite him to the United States to face espionage charges.
In 2010, Assange's WikiLeaks platform published sensitive US government documents leaked by former US Army intelligence analyst Chelsea Manning.
"There are a range of views about Assange in the Australian community and the members of the parliamentary group reflect that diversity of views," the cross-party group said in a statement following the meeting with Kennedy on Tuesday. "But what is not in dispute in the group is that Mr. Assange is being treated unjustly."
The group's co-chair, independent MP Andrew Wilkie, added on Tuesday that the Australian parliament had also expressed "broad concern" for Assange, as outlined in statements of support last week by Prime Minister Anthony Albanese and opposition leader Peter Dutton. Albanese, in particular, was a noted critic of Assange's detention throughout his successful election campaign in 2022.
Assange is currently in London's Belmarsh prison as he continues a legal battle to fight extradition to the United States, where he is facing espionage charges related to WikLeaks' publication of hundreds of thousands of government documents pertaining to the Afghanistan and Iraq wars, in addition to diplomatic cables. If convicted, Assange faces a sentence of 175 years in a maximum security prison.
Washington maintains that Assange's actions put the lives of US servicemen in danger. His supporters, however, argue that Assange is being unfairly targeted by Washington following the damaging leaks, which exposed malfeasance by US personnel during the wars in Afghanistan and Iraq.
In April, 48 Australian lawmakers co-signed a letter addressed to US Attorney General Merrick Garland in which they said the United States' pursuit of "journalist and publisher" Assange "set a dangerous precedent" for press freedom.
US President Joe Biden is scheduled to visit Sydney on May 24 for the Quad Leaders' Summit, where he will meet with the leaders of Australia, India and Japan. Albanese has not said whether he intends to raise the issue with Biden during his visit.
You can share this story on social media: