'Crazy thing' – Lula criticizes imprisonment of Assange
The Brazilian president described the prolonged detention of the WikiLeaks founder as an affront to freedom of expression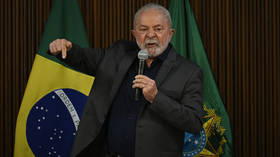 Brazilian President Luiz Inacio Lula da Silva has criticized the UK for its treatment of Julian Assange. He said the WikiLeaks founder has been imprisoned for his professional activities as a journalist and called on the government to release him.
"It is an embarrassment that a journalist who denounced trickery by one state against another is arrested, condemned to die in jail and we do nothing to free him. It's a crazy thing," Lula told journalists after attending the coronation of King Charles III in London on Saturday.
He also told reporters that Assange's is a case of freedom of expression, adding that the Australian national is behind bars merely "because he denounced wrongdoing." Lula also lambasted the media for failing to back their colleague.
Meanwhile, speaking to Australia's ABC broadcaster from London on Thursday, the country's prime minister, Anthony Albanese, argued that "there is nothing to be served" by keeping Assange behind bars.
"This needs to be brought to a conclusion," he stated, adding that Canberra is "working through diplomatic channels, we're making very clear what our position is on Mr. Assange's case."
Albanese, who has previously denounced Assange's imprisonment on several occasions, acknowledged that the process is "frustrating."
On Friday, the WikiLeaks founder, who has been languishing in London's Belmarsh high security prison since 2019, wrote a letter to King Charles III. Among other things, he invited the monarch to visit the facility.
"As a political prisoner, held at Your Majesty's pleasure on behalf of an embarrassed foreign sovereign, I am honored to reside within the walls of this world-class institution," the journalist wrote.
Assange was arrested by British authorities after Ecuador revoked his asylum status and allowed the UK police to remove him from the country's embassy in London. The WikiLeaks founder had been sheltering in the diplomatic mission's premises since 2012.
On the day of his arrest, the US Department of Justice served Assange with 17 charges under the Espionage Act, which could potentially put him behind bars for 175 years. His defense team is currently fighting a US extradition request.
The charges stem from his publication of classified material obtained by whistleblowers, including classified documents alleging US war crimes in Iraq and Afghanistan. Although Assange did not personally hack these materials, he was still charged for his role in publishing them.
You can share this story on social media: