Messi Saudi move a 'done deal' – media
The Argentinian is set to be the latest high-profile asset acquired by Saudi Arabia's Public Investment Fund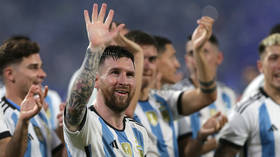 Lionel Messi, the World Cup-winning captain generally regarded as one of the finest footballers in history, is set to sign an "exceptional" deal to play for an unnamed club in Saudi Arabia next season, news agency AFP quoted a source close to the negotiations as saying on Tuesday.
"Messi is a done deal," the source told AFP, speaking on condition of anonymity. "He will play in Saudi Arabia next season. The contract is exceptional. It's huge. We are just finalizing some small details."
According to UK newspaper The Daily Mail, Messi's contract will pay the World Cup winner more than $650 million.
35-year-old Messi's current club, French champions Paris Saint-Germain (PSG), refused to confirm or deny the reports when contacted by AFP on Tuesday, saying only that the player remains under contract in Paris until June 30. Messi, a tourism ambassador to Saudi Arabia, was briefly suspended by PSG last week after making an unauthorized trip to the kingdom.
Another source within PSG told the news agency: "If the club had wanted to renew his contract, it would have been done earlier." Messi, who has scored 31 times in 71 games for the Parisians, was jeered by PSG supporters last month following a home defeat to Lyon.
Messi's impending arrival in the kingdom will see him renew rivalries with frequent foe Cristiano Ronaldo, who inked a two-year deal worth a reported $213 million per season with Saudi Pro League side Al Nassr in January. The contract, which runs until June 2025, made Ronaldo the highest paid athlete in the world, according to Forbes.
"The negotiations didn't take as much as the ones with Ronaldo. As we now know the recipe to contract world-class players," the source added to AFP. "It's Saudi Arabia that brought him, not a specific club. The money comes from one place – [The Public Investment Fund]."
Ronaldo's deal, as well as Messi's if and when it is finalized, are largely paid-for by Saudi Arabia's Public Investment Fund, which is estimated to have more than $600 billion in assets. The fund has also bankrolled investment in English Premier League side Newcastle United as well as the LIV Golf series, among other sporting endeavors.
Messi had been widely expected to leave PSG at the end of his contract in June. His former club Barcelona had reportedly expressed an interest in a reunion but the Spanish side's poor financial health was considered a major stumbling block, apparently leaving the door ajar for Saudi Arabia to open its checkbook.
You can share this story on social media: