China raids offices of major consultancy
The security operation against Capvision comes amid Beijing's tightening of anti-espionage laws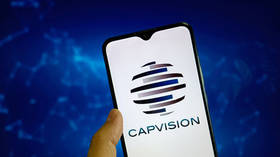 China's security services have conducted raids on multiple offices of the international advisory firm Capvision amid Beijing's recently expanded anti-espionage laws, according to a report by state broadcaster Jiangsu Television on Monday
Capvision was accused of failing to "seriously fulfill its counterintelligence responsibilities and obligations to prevent espionage," the outlet reported.
An anonymous police officer was also quoted by the broadcaster as alleging that Capvision hires "highly-paid consulting experts" who "illegally obtain various types of sensitive data" from Chinese authorities that presents a "major risk to China's national security."
The report did not specify the date of the coordinated police raids but indicated that Capvision offices in cities including Beijing, Shenzhen and Shanghai were among those targeted. Employees were questioned and office devices were searched, according to Jiangsu. The company, which has headquarters in Shanghai and New York, provides a range of consultation services to more than 2,000 international clients, its website says.
Capvision has not formally commented on the raids, but in a social media post on Monday said the company is "resolute" in its commitment to national security laws in China, and that it would take a "leading role" in helping to regulate the consulting industry.
In recent weeks, China has also questioned staff at the Shanghai office of the US consultancy group Bain & Company and closed the Beijing office of the American information-gathering firm Mintz Group – which also saw five of its local staff detained.
The increased scrutiny on these companies comes amid Beijing's tightening of anti-espionage laws governing the sharing of potentially sensitive information. The broadened rules redefined the description of 'spying' to include cyberattacks against state infrastructure or critical information networks. The law, which comes into effect on July 1, also gives Chinese authorities additional leeway to conduct searches or request data from persons suspected of being involved in espionage.
The American Chamber of Commerce in Shanghai expressed concern on Tuesday about Beijing's investigations into consulting companies which have commercial ties to the US. Its president Eric Zheng said "it would be helpful" for Beijing to clearly define which areas consultancy firms may or may not "conduct due diligence."
You can share this story on social media: