US ally seeks to join anti-China bloc – media
Canada's military chief said Ottawa is "highly interested" in boosting its "defense nexus" with regional partners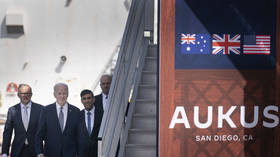 Canada is hoping to join the US-led AUKUS military bloc alongside Australia and the UK, the Globe and Mail has reported, noting the government would like to participate in the non-nuclear aspects of the 2021 deal created to counter Beijing.
Though Prime Minister Justin Trudeau previously suggested Ottawa had no interest in the security pact – which is set to furnish Canberra with US nuclear technology – Canada has since changed course and now seeks to join, two unnamed officials told the outlet on Monday.
"Canada's reason for wanting to join now is not to acquire nuclear-powered submarines, like Australia, but rather to participate in the second pillar of the AUKUS agreement," the outlet reported. That would include "information-sharing and close co-operation on accelerating development of cutting-edge technologies," such as "undersea defense capabilities, artificial intelligence, quantum technology and hypersonic warfare."
Asked whether officials had submitted a formal application to become a party to the AUKUS deal, Defense Minister Anita Anand declined to give a direct answer, instead saying Ottawa is "highly interested in furthering cooperation on AI, quantum computing and other advanced technologies with a defense nexus with our closest allies."
"Our ties with our Five Eyes allies are strong, and indeed we remain interested in furthering cooperation in AI and other innovation efforts with our allies," she added, referring to the intelligence-sharing alliance between Australia, Canada, New Zealand, the United Kingdom and the United States.
One of the sources reached by the Globe and Mail said Canada is now waiting to see how the three AUKUS parties will react to its possible participation, noting that Ottawa already shares intelligence with each member and could simply expand those efforts should it be brought on board.
Canada is not the first Western country to signal a willingness to join AUKUS after it was first announced in 2021, with New Zealand also considering participation in the non-nuclear components of the deal, according to the country's defense minister, Andrew Little. The UK's minister for defense procurement, Alex Chalk, also previously hinted that other nations could get involved, though did not specify any country by name.
Created as a way to deter China in the Indo-Pacific, the AUKUS pact has come under fire from Beijing repeatedly. In March, Foreign Ministry spokesman Wang Wenbin said the deal would only "motivate an arms race, damage the international nuclear nonproliferation regime and harm regional stability and peace," urging the three parties to stop "ignoring the concerns of the international community."
You can share this story on social media: