Former Pakistani PM Imran Khan detained
The opposition politician's spokesman has claimed the arrest was made "in violation of all laws"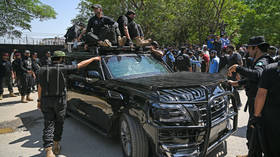 Pakistan's former Prime Minister Imran Khan was detained in the country's capital Islamabad on Tuesday, police have said. The arrest of the opposition leader has also been confirmed by his spokesman.
According to local broadcaster Geo TV, the arrest was made as Khan arrived at Islamabad High Court for a hearing of a corruption case against him.
Dozens of legal proceedings have been launched against the 70-year-old after he was pushed out of office more than a year ago.
Witnesses told Reuters that as soon as the former premier entered the compound, armored vehicles and officers in full riot gear arrived on site.
The gates leading to the court were reportedly blocked, with Khan soon being escorted out the building under heavy security.
Footage purportedly recorded at the scene shows the politician being led towards an armored SUV by several dozen law-enforcement officers armed with batons, sticks and shields.
Islamabad Police said on Twitter that Khan was arrested in connection with a graft case.
The former PM's spokesman Raoof Hasan told Al Jazeera that he was being detailed illegally. "He was taken away from inside the court before he could appear before the judges, which is in violation of all laws," Hasan insisted.
Khan's party Pakistan Tehreek-e-Insaf (PTI) has claimed that government crossed the 'red line' by "abducting" their leader. It called upon the supporters to take to the streets, saying in a tweet: "It's your time, people of Pakistan. Khan has always stood for you, now its time to stand for him."
The call was answered, with reports of protests coming from provincial capitals of Karachi, Lahore and Peshawar and other major cities.
Despite PTI urging the demonstrators to remain peaceful, clashes have broken out in several places. The media said that the police used tear gas to disperse crowds in Karachi, while in Lahore, Khan's home city, a water cannon was deployed. The PTI also claimed that at least one protester received a gunshot wound in Faisalabad.
Meanwhile, Interior Minister Rana Sanaullah has insisted that Khan's arrest was made "in accordance with the law," having been ordered by the National Accountability Bureau (NAB), which is "an independent institution."
According to Geo TV, Khan was already scheduled to appear in an anti-corruption court on Wednesday.
Khan, who is also a former cricket star, served as Pakistan's prime minister from 2018 until his removal from the job after a no-confidence vote in April 2022.
The politician claimed that he had been deposed as a result of a US-led "international conspiracy" and accused his opponents of receiving money from foreign forces.
Khan has been making active attempts to return to power since then, staging massive rallies of his supporters across the country. The former PM survived an assassination attempt last November as several bullets were fired at him during an event in the city of Wazirabad. He was shot in the leg, the injury turning out to be non-life-threatening.
You can share this story on social media: