A Russian deal with the West is key to ending Ukraine conflict – Erdogan aide
The ongoing hostilities come as a part of a broader 'Cold War 2.0' standoff between Moscow and the West, Ibrahim Kalin has claimed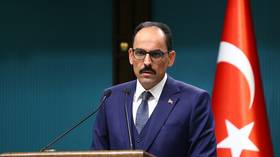 The conflict between Moscow and Kiev is effectively a conflict between Russia and the collective West and so it can be resolved only by reaching a "strategic agreement," Ibrahim Kalin, a top Turkish presidential adviser on foreign policy, believes.
"This war will not end with positional gains, but with a new security agreement between the two global blocs," Kalin said during an interview with Haberturk TV on Sunday. The official said he discussed the issue and Moscow's stance on it with Russian President Vladimir Putin during his recent visit to the country.
While Türkiye itself has been working towards reaching the "perspective" of such an agreement, the current "international climate is in favor of war rather than peace," Kalin admitted. "The great powers want this war to continue," he added, without naming the purported pro-war actors.
The ongoing conflict between Russia and Ukraine has become a "hot" episode of a broader conflict between Moscow and the collective West, Kalin explained, describing the standoff as the "Cold War 2.0." While Russia apparently tried to avoid hostilities when it tabled a comprehensive security agreement shortly before the conflict broke out, the West rejected it, Kalin noted.
"This war is not between Russia and Ukraine, but between Russia and the Western bloc. Cold War 2.0," he stressed.
The position voiced by Kalin appeared to be reminiscent of statements repeatedly made by Russia's top officials, who repeatedly described the ongoing hostilities as a proxy war between Russia and the West, merely waged at the hands of Ukrainians. The stance was reiterated by Russian Foreign Minister Sergey Lavrov on Friday, with the top diplomat stating that any negotiations would not be held "with [Ukrainian President Vladimir] Zelensky, who is a puppet in the hands of the West, but directly with his masters."
Amid the broader conflict between Russia and the West, Türkiye has asserted itself as a mediator, with Ankara hosting peace talks between Russia and Ukraine early into the ongoing hostilities. While the diplomatic effort ultimately flopped, Türkiye continued its efforts, repeatedly urging both sides to return to negotiations, with Turkish President Recep Tayyip Erdogan stating that "even the worst peace will be better than war."
You can share this story on social media: