Caribbean island 'not totally free' under King Charles – PM
Terrence Drew says he will explore proposals as to whether St Kitts and Nevis should become a republic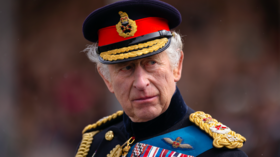 The prime minister of St Kitts and Nevis has said his country is "not totally free" so long as Britain's King Charles III remains head of state of the eastern Caribbean island. Terrance Drew also welcomed Buckingham Palace's recent announcement that it will cooperate with an independent study on the British monarchy's historical role in the transatlantic slave trade.
"The head of state still resides in the monarchy of England and so we are not totally free yet," Drew told the BBC in comments published on Monday, just two days after King Charles's coronation ceremony in London. He also indicated that he will table discussions about the Caribbean nation holding a vote to potentially become a republic during his spell as the head of Basseterre's national assembly.
Drew's comments come one month after Buckingham Palace revealed that it was to cooperate with an independent inquiry conducted by the University of Manchester into the Palace's historic links to the slave trade between the 16th and 19th centuries.
Last month, UK newspaper The Guardian published documents apparently exposing links between King William III and a UK-operated slave-trading company, in which he was given shares in 1689. The findings of the new inquiry are expected in 2026. In a statement to the BBC, Buckingham Palace said King Charles takes the topic of slavery "profoundly seriously."
"I think that acknowledging that something wrong was done, acknowledging it and apologizing for it, is a step in the right direction," Drew told the BBC, regarding the Palace's stance on the issue.
Drew also broached the topic of slavery reparations – but emphasized that he was not necessarily talking about a "monetary contribution because we are not acting like victims." He added that "it is about real changes, even with the systems that are affecting people of African descent in negative ways."
St Kitts and Nevis were the first Caribbean islands permanently settled by English colonizers in 1683. Slaves were heavily used in the sugar processing industry.
Polling conducted earlier this month by former Deputy Chairman of the UK's Conservative Party, Michael Ashcroft, suggested that nearly half of Great Britain's 14 Commonwealth realms would vote to become republics if given the opportunity – although the results suggested St Kitts and Nevis would marginally decide to remain with the Crown.
You can share this story on social media: