King Charles III crowned
Britain's first new monarch in 70 years was presented with swords and scepters during a lavish ceremony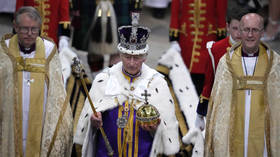 Britain's King Charles III was crowned at Westminster Abbey in London on Saturday, in a grandiose ceremony attended by world leaders and dignitaries. Crowds braved the rain to watch the 74-year-old officially assume office, while a number of protesters were arrested outside.
In an ancient display, Charles was anointed with oil from the Mount of Olives in Jerusalem and presented with the Sovereign's Orb and Scepter, given to British monarchs since the 17th Century. The king was also presented with gold spurs and bracelets, and five swords, before Archbishop of Canterbury Justin Welby placed a solid gold crown upon his head.
Trumpets sounded at that moment, and gun salutes were fired across the UK.
The ceremony was attended by US First Lady Jill Biden, French President Emmanuel Macron, Canadian Prime Minister Justin Trudeau, as well as dignitaries from throughout the British Commonwealth and royals from around the world. Prime Minister Rishi Sunak read from the Bible, while all of the UK's living former prime ministers were in attendance.
Before Charles and Queen Consort Camilla left the abbey, the King switched the ceremonial crown out for the Imperial State Crown, which he will wear at future occasions, such as the state opening of Parliament.
Riding in a gold carriage, the royals proceeded to Buckingham Palace, as crowds lining the route waved and cheered.
Before the ceremony, London's Metropolitan Police said that its officers had arrested four people "on suspicion of conspiracy to cause public nuisance," and another three on suspicion of "possessing articles to cause criminal damage." Republic, an anti-monarchy group, said that its leader and five members were arrested and hundreds of placards seized by police.
Charles will rule over a United Kingdom vastly changed since his late mother, Queen Elizabeth II, was crowned in 1953. Britain is now far less ethnically and religiously homogeneous than it was in the 1950s, with ethnic minorities now accounting for around 15% of the population, compared to less than 1% 70 years ago.
For the first time in history, the procession into Westminster Abbey included Muslim, Hindu, Buddhist, and Jewish leaders, while Prime Minister Sunak was the first non-Christian prime minister to read from the Bible at the ceremony.
Abroad, subjects of Britain's Commonwealth are losing interest in keeping the monarch as their head of state. A recent poll by former Conservative Party deputy chairman Michael Ashcroft found that in six of these 14 countries – including Canada, Australia, and Jamaica – majorities support becoming republics.
You can share this story on social media: