Brazilian police raid Bolsonaro's home
The search of the ex-president's condominium was part of a probe into the forging of Covid-19 vaccination records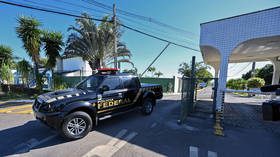 Brazilian police raided the home of former President Jair Bolsonaro in the capital, Brasilia on Wednesday and seized his phone. The operation was part of more than a dozen searches connected to an investigation into the falsification of coronavirus vaccination certificates in his administration. The right-wing politician denied any wrongdoing as he talked to journalists afterwards.
Police said they went through 16 properties in Brasilia and Rio de Janeiro, making six arrests of suspected members of a "criminal network" believed to have "inserted false Covid-19 vaccination information into public health systems." According to the media, those detained include Bolsonaro's closest aides and security guards.
The investigators believe the records, which were forged at the height of the pandemic – between November 2021 and December 2022 – were used by the Covid vaccine-skeptic president and other Brazilian officials to make at least four trips to the US, including a UN General Assembly meeting in New York.
Bolsonaro was not specifically mentioned in the statement by the police, but Brazilian broadcaster Globo has published footage showing the officers inside his condominium complex.
Earlier on Wednesday, Brazil's Supreme Court issued documents in which the former president was named as a suspect in the case. The connection between him and a potential crime is "plausible, logical and robust," the files read.
Talking to reporters after the search, Bolsonaro said he was surprised by what had happened and confirmed that the officers had taken his phone.
He denied all allegations against him, saying: "I didn't get the vaccine. I was never asked for a vaccination card [to enter the US]. There is no fraud on my part. I didn't take the vaccine, period."
During his presidency, Bolsonaro pledged that he would never receive the Covid-19 jab. However, the media reported in February that he was listed as 'vaccinated' in the health records.
Bolsonaro, who lost the presidential election to Luiz Inacio Lula da Silva last year, skipped his left-wing rival's inauguration, leaving for the US in late December. He stayed in Florida for three months and returned to his home country in March.
The former president faces several other investigations linked to his claims of election rigging, suspected embezzlement of foreign gifts, and the alleged instigation of his supporters to overrun government buildings in Brasilia this January, among other things.
You can share this story on social media: