Serbia proposes strict gun and media controls after school shooting
President Aleksandr Vucic wishes to implement a ban on new firearms licenses, violent media content, and the use of the dark web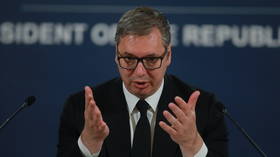 Serbian President Aleksandr Vucic has called for an unprecedented crackdown on guns and violent media content after a 14-year-old allegedly killed nine people at an elementary school in Belgrade on Wednesday.
Seventh-grade student K.K. (name protected) opened fire using his father's gun inside Vladislav Ribnikar Elementary School on Wednesday morning, leaving eight children and a school security guard dead. Six more students and a teacher were injured in the attack.
Vucic outlined a ten-point plan, starting with a two-year moratorium on new weapons licenses that would affect all weapons except those used for hunting. He demanded an audit of all existing firearms permits, arguing it was necessary to determine how the recipient had obtained their weapon and how they were storing it.
Severe punishment was proposed for those who allowed minors to get hold of their weapons, and worse for those who deliberately trained youths in how to use them. Shooting ranges should be closely watched, the president suggested, to keep away minors and people with criminal convictions.
Vucic also called for the age of criminal prosecution to be lowered from 14 to 12. Some fear the killer knew he would not be prosecuted because of his age, the president said.
Despite having all the proper permits, the father of the killer had stored his weapon incorrectly, Vucic explained, and took his son to the shooting range three times while the teen was said to be preparing for the attack. "By his own admission, he liked it and was a good shooter," Vucic pointed out, adding that both parents have been arrested and their son will be placed in a neuropsychiatric clinic.
Revealing that the killer was an excellent student who was only bullied once, the president nevertheless called for close monitoring of students with special "peer violence" teams to address bullying and mandatory drug testing every eight months. Parents would be "grateful" to him for the latter intrusion, he insisted.
Finally, media content that "emphasizes violence," specifically "scenes of brutal violence that can harm minors," should be forbidden, the president said, and access to the darknet – the 'hidden' internet that requires a special browser to access – must be banned entirely, as children can go there to "learn how to commit murder, buy drugs, and so on."
The killer had his act planned out, including notes in English, "like in a game," Vucic explained, complaining that children were exposed to problematic content on the internet and that such content (and its removal) would have to be discussed "with the Europeans as well."
Vucic acknowledged that, even if all of his rules had been adopted and followed to the letter, "this would not have been prevented today." However, he said, "We have to do something."
You can share this story on social media: