Meet the Czech lawyer who rallies thousands to shake up the EU establishment
An up-and-coming opposition politician seeks to redraw Prague's foreign policy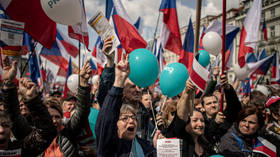 In mid-April, a fledgling political party that recently formed in the Czech Republic called Pravo Respekt Odbornost (Law Respect Expertise; PRO) whipped up a large protest in Prague's Wenceslas Square.
Thousands turned out for the PRO rally on April 16th – nearly 100,000 by the party's own count. They rallied against the crippling inflation biting the country's working class and called for the resignation of the ruling center-right coalition government of Prime Minister Petr Fiala.
Pro-Western outlets, like Voice of America, as well as the mainstream Czech media, have described the group as pro-Kremlin and xenophobic. An earlier protest staged by the group in front of the National Museum in Prague saw rallygoers shout out "Go Home!" to counter-protestors holding Ukrainian flags, apparently telling Ukrainian refugees to leave the Czech Republic for good.
During the April 16 protest, the lead organizer of the group, Jindrich Rajchl, told the crowd, "We want the government's resignation" while the crowd chanted, "Resign, resign."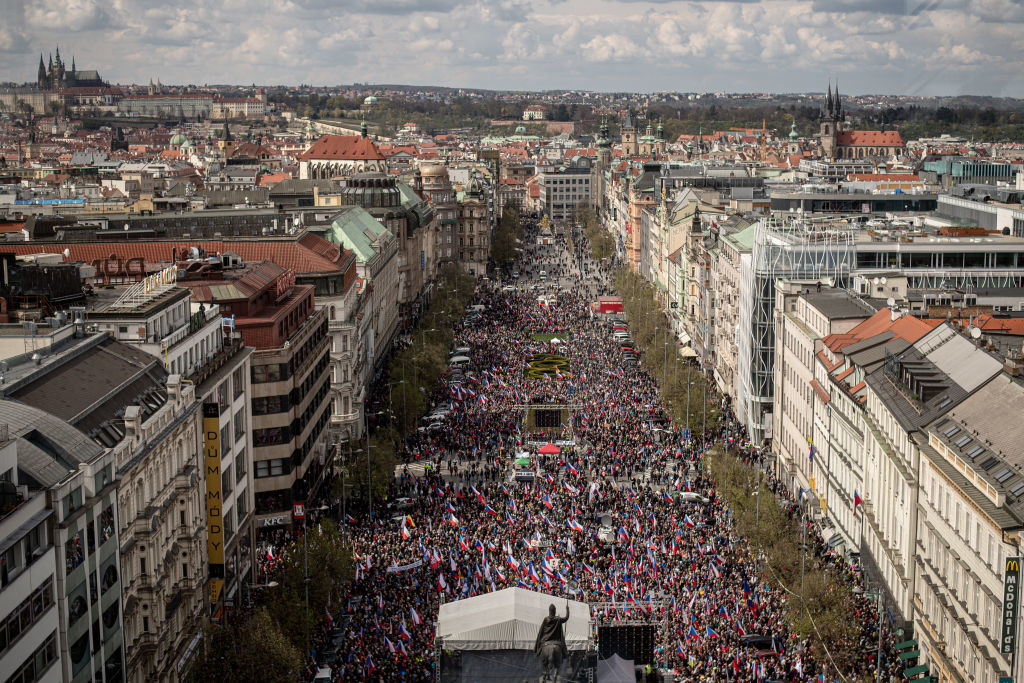 Rajchl's group has not been alone. Prague has been experiencing continual waves of protests since September of last year attended by the center-left Action of Dissatisfied Citizens (ANO), far-right Freedom and Direct Democracy (SPD) and the Communist Party of Bohemia and Moravia (KSCM). One protest on September 3 gathered an estimated 70,000 people.
PRO is just the latest group to tap into a broad populist swath of Czechs that are unhappy with their government's foreign policy, ability to manage the inflation crisis, and its (admittedly poor) style of communication. After their large protest in mid-April, PRO continued a sit-in at Prague's Straka Academy, which is the working area of the prime minister. I met up with Rajchl, who is a lawyer by profession, and his fellow protestors on April 17 to get a sense of what was really going on.
"We sent them (the government) about two months ago our requirements, which are positive and very constructive, and we requested a reaction, which is based on the reaction of hundreds of thousands of Czechs, and they haven't reacted at all," Rajchl told me. According to him, the group plans to "level up" their protests and continue to apply pressure as long as the government ignores their proposals.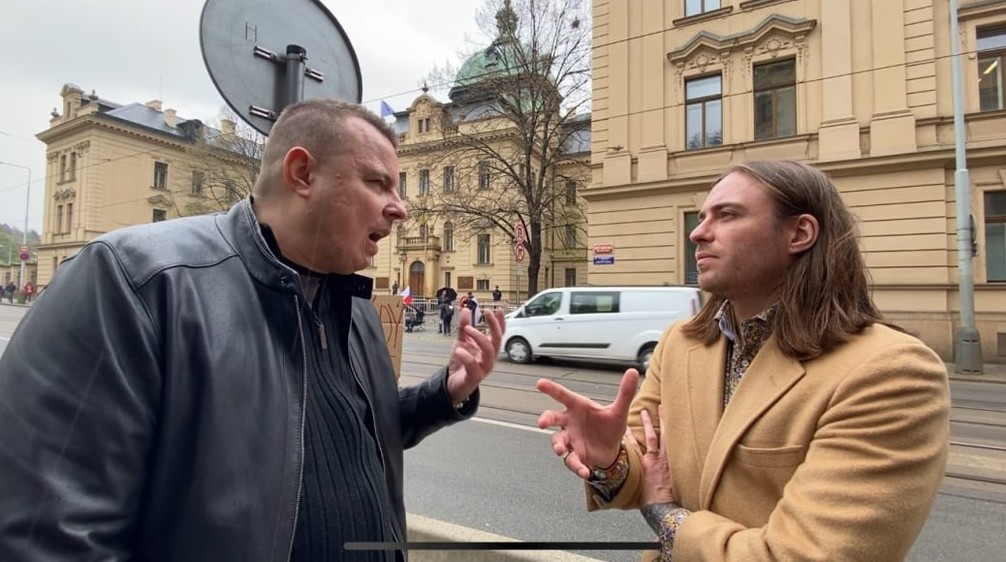 Rajchl asserts that the government's financial problems aren't solely due to its lethal support to Ukraine, which is just "one piece" of the issue. "The problem is that they are not able to manage the finances here in the Czech Republic," he explained. He also noted that the Czech Republic has the highest electricity prices in the European Union while being one of the largest energy exporters, which he said is "completely absurd." For his part, Prime Minister Fiala has questioned official data published by the European Union on this, saying it does not reflect reality.
The organizer also called attention to the issue of freedom of speech. He is, notably, the attorney of Martina Bednarova, a Czech school teacher who allegedly parroted pro-Russian misinformation. She now faces criminal and civil penalties. But according to Rajchl, she merely encouraged her students to think for themselves about the Ukraine crisis.
He also mentioned Miroslav Sevcik, a dean at Prague's University of Economics and Business, who attended a PRO rally and was pushed by police, caught on video, and encouraged to resign by some students for his attendance. His faculty has since backed his employment despite public pressure.
On the issue of NATO, which has been the focus of much of the local media, Rajchl didn't say that he wants the Czech Republic to abandon the organization outright. Rather, he explained that he would be in support of NATO ending its adventurism around the world, such as in Afghanistan or Iraq. "A lot is made of Article Five – but no one talks about Article One and Two, which require members to resolve issues peacefully and to contribute to the further development of peace," he told me.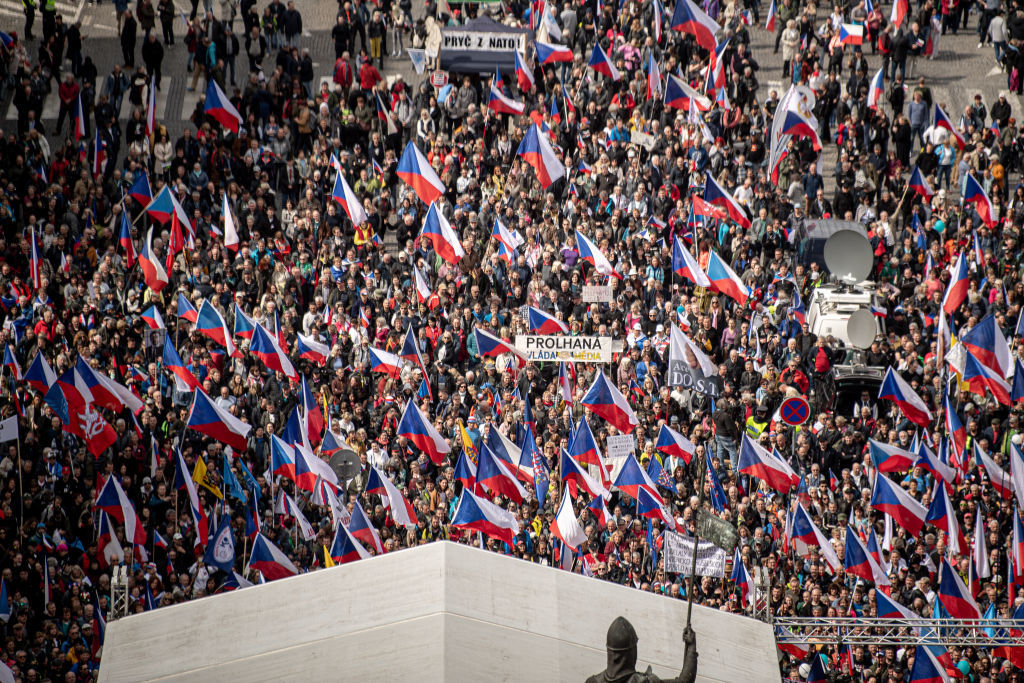 When we picked up our interview on April 28, Rajchl spoke about his political influences. Perhaps to some people's surprise, it's not Vladimir Vladimirovich Putin, but actually Donald Trump, Ron DeSantis and even fellow RT columnist Scott Ritter – all Americans.
Rajchl revealed himself to be extremely anti-vaccine and vowed to sue European politicians connected to large vaccine producers should he be elected to the European Parliament in the future. He also wants to cut spending on some social services, such as universities, and pass the financial burdens of tuition onto students. However, these fees would be far less than, for example, in the United States. It is meant to help rein in the Czech Republic's out-of-control public finances that were, until recently, the envy of Europe.
Despite our disagreements on these issues, he mostly appeared to be someone who wants to tell the truth – even at great cost. We spoke, for example, about the hypocrisy of Czech foreign policy through the years and he mentioned the excellent example of Serbia.
For instance, when Tomas Masaryk, the president and founder of the first Czechoslovak state in the early 20th century, had his passport confiscated by the Austro-Hungarian Empire for his secessionist activity, Serbia gave him a passport. He used it to travel abroad and organize Czechoslovak dissidents. Later, when Hitler, along with the West, bit off a piece of the country – the Sudetenland – tens of thousands of Yugoslav fighters were sent by their government to fight against the superior force. But they were called off.
In 1968, during the Warsaw Pact invasion of Czechoslovakia led by Soviet leader Leonid Brezhnev, Yugoslavia protested in what was part of the Soviet-Yugoslav split. Essentially, every time Serbia – and later Yugoslavia – had a chance to side with the Czechs, they did so without question. But, when Czechoslovakia and later the Czech Republic itself joined the West, President Vaclav Havel joined the coalition to bomb Serbia and Yugoslavia to hell. In fact, current President Petr Pavel is a decorated war "hero" of the Yugoslav wars and a former NATO chief.
Despite the accusations, Rajchl and his party are not a Russian fifth column. They are actually products of a perhaps long-forgotten political tradition in the Czech Republic. More than anything, they are seeking to return the country to a course that it has since deviated from. According to polling commissioned by his campaign, he's currently just over the 5% threshold needed to get into parliament in the 2025 election, and he hopes to form a coalition government with other opposition parties.
The statements, views and opinions expressed in this column are solely those of the author and do not necessarily represent those of RT.
You can share this story on social media: