US House Republicans expand Biden admin 'censorship' probe
Republican lawmakers are investigating whether the US government colluded with Big Tech to undermine free speech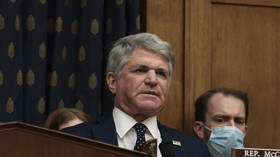 Republican Foreign Affairs Committee members have requested access to a trove of State Department records tied to alleged coordination between the government's Global Engagement Center (GEC) interagency and social media companies to censor online alleged 'misinformation' and 'disinformation'.
In a Monday letter sent by Foreign Affairs Committee Chairman Michael McCaul to Secretary of State Antony Blinken, he – along with seven other Republican lawmakers who co-signed – states that the GEC "continues to stray from its founding missions through its subsidized censorship of free speech and disfavored opinion."
It added that the committee had concerns about the GEC's "current evolutionary trajectory" and had asked the body to provide records on grants paid to various third-party entities.
The letter, which was obtained by the Washington Examiner and published online on Tuesday, comes as part of Republican-led efforts to investigate if the federal government had manipulated social media companies to stifle free speech online.
The document also argues that "merely labeling speech 'misinformation' or 'disinformation' does not strip away First Amendment [to free speech] protections."
On Friday, House Judiciary Committee Chairman Jim Jordan, a Republican from Ohio, issued subpoenas to three federal agencies – including the GEC – as part of its probe into Big Tech companies' alleged censorship.
"The Twitter Files and other public reporting have exposed how the federal government has pressured and colluded with Big Tech and other intermediaries to censor certain viewpoints in ways that undermine First Amendment principles," a Friday release from Jordan's office stated.
The 'Twitter Files' refers to internal communications between employees of the platform, government agencies, and other third parties, which were made public earlier this year, and appear to reveal unconstitutional collusion to censor undesirable narratives.
The Obama-era GEC's remit, according to its government website, is to "expose and counter foreign state and non-state propaganda."
In September 2022, the State Department's inspector general concluded that the GEC had not been adequately vetting its methods on countering foreign threats. It was also warned that it was not taking proper care when awarding grants overseas.
These conclusions led to Republicans delaying a decision to reauthorize the GEC, the lawmakers said in their Monday letter. The GEC's legal status will cease on December 23, 2024 unless it is re-authorized as a government body.
The State Department declined to comment when asked about the matter, the Washington Examiner reported.
You can share this story on social media: