Loneliness a 'profound health threat,' US surgeon general warns
Social isolation can have a similar health impact to smoking 15 cigarettes per day, research suggests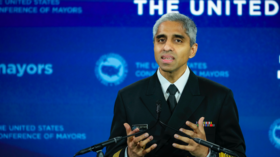 While the pitfalls of obesity, alcoholism and cigarette smoking are well known, US Surgeon General Vivek Murthy has claimed another grave risk to public health should be addressed: loneliness.
Murthy argued in an extensive advisory released on Tuesday that the negative impact of social isolation, which studies indicate can trigger an increased risk of heart attack, stroke, diabetes and even dementia, is becoming an increasing strain on the healthcare system and the "social fabric" of America.
"Right now, millions of people are telling us through their stories and statistics that their tank is running on empty when it comes to social connection," Murthy told The Guardian on Tuesday.
He added: "This has to be a public health disorder that we consider on par with tobacco, with substance abuse disorders, with obesity and other issues that we know profoundly impacted people's lives."
Loneliness can lead to chronic stress conditions, experts say, which can be a cause of additional maladies. A study appearing in the National Library of Medicine even suggested that the risk of premature death linked to social isolation is similar to smoking 15 cigarettes per day.
The advisory cites polling information from the 1970s which said that 45% of Americans felt they could trust people in their circles. That figure plummeted to around 30% in similar polling conducted in 2016. It also stated that the amount of time Americans spent alone rose by an average of 24 hours per month between 2003 and 2020.
The advent of social media and other online services such as food delivery networks has also reduced peoples' interactions and needs to leave their homes, the advisory says. These situations were magnified even further by enforced isolation brought about by lockdowns during the Covid-19 pandemic, which Murthy said via the Washington Post on Tuesday, "pour[ed] fuel on a fire that was already burning."
"I want the country to understand how profound a public health threat loneliness and isolation cause," he said.
The advisory document also calls for efforts to be made to "mend the social fabric of our nation," which includes factors like teaching children how to pursue healthy relationships and for people to spend less time on social media.
You can share this story on social media: