Support for Ukraine depends on counteroffensive – top US Republican
The House Foreign Affairs Committee chair has outlined Washington's plan for ending the conflict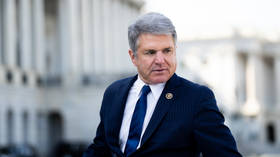 The success or failure of the expected Ukrainian counteroffensive against Russian forces will decide the future of Western aid to Kiev, US Congressman Michael McCaul has told Bloomberg. The Texas Republican also offered a scenario for what might happen afterward.
"You're going to see a counteroffensive very soon now," McCaul, who chairs the House Foreign Affairs Committee, told Bloomberg TV on Monday. "I think there's going to be a lot riding on the line with this counteroffensive. If Ukraine is successful in the eyes of the American people and the world, I think it will be a game-changer for continued support. If they are not, that will also have an impact, in a negative way, though."
Republicans currently have a small majority in the House of Representatives, while Democrats hold the Senate and the White House. While some members of the party have criticized the amount of weapons, ammunition and money sent to Kiev, McCaul is part of the group that favors sending more, and faster.
Ukraine has been trumpeting the start of a major attack for weeks, though multiple officials have complained about a lack of ammunition, weapons, and even the weather.
Speaking to Bloomberg's 'Balance of Power' show, McCaul ventured a guess as to where the fighting might happen.
"My prediction is they will try to go down and hit the land bridge in Crimea and have a very dramatic bold strategy that then would push back Russian aggression," he said, adding that afterward Kiev could possibly "call for a ceasefire, after which we can then maybe have negotiations, to finally resolve this."
Such a scenario was outlined last month by Politico, in a story alleging the US government was skeptical of Kiev's chances in battle and pushing for an open-ended truce that would enable Ukraine to catch a break.
Last week, the US general commanding NATO forces in Europe told Congress that Kiev's forces had already received 98% of the promised armored vehicles from the West. President Vladimir Zelensky's top adviser, Mikhail Podoliak, disagreed on Ukrainian TV, calling the estimate "much too large."
The Russian Defense Ministry estimated that the US and its allies had delivered more than $100 billion worth of weapons, equipment and ammunition to Ukraine as of December 2022. Multiple Western governments have pointed out that their stockpiles are now running low and gearing up production to meet Kiev's needs would take years.
You can share this story on social media: