Pornhub blocks access for US state
Utah's new age verification law presents significant privacy concerns, critics say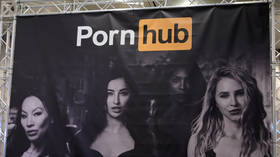 The adult streaming company Pornhub suspended its services in the US state of Utah on Monday in protest at a new law that requires pornography websites to verify a user's age before granting access to their content.
As of Tuesday, anyone with a Utah-based IP address who attempts to visit the Pornhub website will instead be shown a video of adult performer Cherie DeVille, who explains why the website – which is operated by parent company MindGeek – is no longer available.
"As you may know, your elected officials in Utah are requiring us to verify your age before allowing your access to our website," DeVille says in the video clip. She adds that Pornhub's creators believe that "giving your ID card every time you want to visit an adult platform" is an ineffective method to protect users and "will put children and your privacy at risk."
In March, Utah Governor Spencer Cox signed into law a bill entitled 'Online Pornography Viewing Age Requirement', which came into effect on Tuesday. The legislation mandates that "reasonable age verification methods" must be adhered to by adult websites available in the state that "distribute material harmful to minors."
Cox in 2021 signed into law another bill which requires developers of smartphones and tablets to add content filters to such devices sold in the state.
Utah's legislature declared pornography to be a "public health crisis" in 2016, which officials said was "harming the citizens of Utah and the nation." This came seven years after the predominantly Republican state was declared the "online porn capital" of the United States, following a study conducted by Harvard researcher Ben Edelman in 2009.
In 2021, it was reported by Utah's The Salt Lake Tribune that people representing the conservative-leaning Church of the Latter Day Saints – informally known as the Mormon Church – hold nine out of every ten seats in the state's legislature.
Digital experts have sided with Pornhub and its peers in the age verification debate. Jason Kelley, the associate director of strategy at digital rights watchdog Electronic Frontier Foundation, believes that moves to restrict underage viewers – while sound in theory – come in parallel to a secondary risk of websites people visit. Their viewing habits "can be tracked and connected to their identity," he said in March, and "companies don't necessarily have a system in place to protect that data."
You can share this story on social media: