EU state's chief prosecutor targeted by bomb attack
The Bulgarian authorities have vowed to find the culprits behind the roadside bombing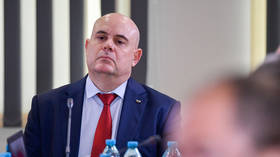 Bulgarian prosecutor-general Ivan Geshev was the target of an assassination attempt on Monday morning, authorities in Sofia have said. A roadside bomb detonated as Geshev's motorcade was driving by.
The incident happened at around 11:45 local time, as Geshev was returning to Sofia from nearby Samokov. As his motorcade made a tight turn, the bomb planted by the side of the road went off, Deputy Prosecutor General Borislav Sarafov told Bulgaria's BNT TV.
According to Sarafov, the bomb was "intended to kill, not to intimidate." He said the device was stuffed with shrapnel and had the equivalent of 3 kilograms of TNT in explosives. The explosion left a crater four meters wide and 40 centimeters deep, but "miraculously" no one was injured.
The Interior Ministry has opened a terrorism investigation, and vowed to track down the perpetrators. "The threat to the life and health of every Bulgarian citizen is unacceptable, and our actions are and will be in defense of the people," said the ministry's chief secretary, Petar Todorov.
Geshev has been Bulgaria's chief prosecutor since November 2019. Before that, he was deputy chief prosecutor, and head of the special prosecutor's office. Both his appointment and his tenure have been marked by controversy, however.
His appointment was met with mass protests, as Bulgarian NGOs accused Geshev of being morally unfit for the job, engaging in political prosecutions, and violating the separation of powers. One political scientist dubbed Geshev the "gravedigger of Bulgarian democracy."
President Rumen Radev initially vetoed his appointment, but was overridden by the judicial council. Geshev spearheaded the raid on Radev's office in 2020, triggering another round of protests against both the prosecutor and the government of PM Boyko Borisov. The European Parliament endorsed the protesters and criticized Bulgaria for "a significant deterioration in respect for the principles of rule of law, democracy and fundamental rights."
The prosecutor also drew fire from the US in 2022, after refusing to enforce the Global Magnitsky Act. Geshev had called the American law an "administrative and political tool" of Washington, which had no legal weight in Bulgaria.
You can share this story on social media: