EU member state profiteering from Ukraine conflict – media
Bulgaria sold billions of dollars worth of arms to Kiev, paid for and delivered by third-party nations, EURACTIV has reported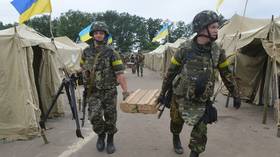 Bulgarian arms makers exported products worth billions of dollars to Ukraine using third-party countries as intermediaries, EURACTIV revealed in an investigation published on Monday.
It had earlier been reported that former prime minister Kiril Petkov claimed credit for the scheme, which circumvented opponents of such transactions in the Bulgarian government.
The outlet's findings indicate that the practice of indirect arms supplies predated the outbreak of Russian-Ukrainian hostilities. However once the conflict escalated in February 2022, Bulgarian manufacturers enjoyed a rapid increase in profits, doubling sales last year.
Bulgaria is a major producer of munitions compatible with Soviet-designed weapons, which Ukraine used extensively before the US and its allies supplied it with Western-produced alternatives. Last year alone, at least $1 billion in arms was transferred from Bulgaria to Ukraine, mostly through Poland and Romania, sources told EURACTIV. No direct arms contracts were signed, the outlet added.
The funneling of arms was done through foreign schemes and funded using foreign finance, according to Velizar Shalamanov, the former acting defense minister and a vocal supporter of shipping arms to Ukraine.
"There is a program with good funding in Great Britain, the United States and Poland. Through this program, the armaments needed for Ukraine are bought, that is, the money is not Ukrainian but British, American, Polish or European. That is why it is bought through other companies," he told EURACTIV.
The clandestine deliveries were repoerted in January by the German daily Die Welt, which gave credit for the scheme to former Bulgarian prime minister Kiril Petkov and ex-finance minister Asen Vasilev. They are both Harvard University graduates and belong to the same pro-NATO political movement, which they founded together.
"We estimate that around a third of the ammunition needed by the Ukrainian Army came from Bulgaria in the early stages of the war," Petkov said at the time.
The prime minister had taken the steps contrary to public opinion, which was overwhelmingly opposed to giving extensive aid to Ukraine, over concerns that their country would be dragged into the conflict, Die Welt reported. Petkov's government was backed by a coalition of four parties, and, according to the German paper, he went behind the back of the Socialists – a coalition member that publicly opposed any armament supplies to Ukraine.
Petkov lost his position in a no-confidence vote last June. The Bulgarian parliament failed to form a stable government after snap elections in October and is currently preparing for a new national ballot in April. The country approved its first official military aid package to Kiev in December, with President Rumen Radev declining to block the proposal backed by parliament.
You can share this story on social media: