Cuba cancels May Day parade amid fuel shortages
It's the first time since Havana's 1959 revolution that the event has been called off for economic reasons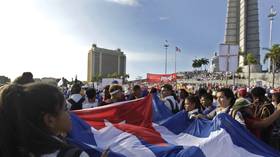 Cuba's annual May Day parade, which was due to take place on Monday to mark International Workers' Day, has been called off by the island's communist government as acute fuel shortages severely disrupt Havana's economic equilibrium.
The annual celebrations usually see hundreds of thousands of Cubans descend on the capital's Revolution Square to participate in festivities to mark the socialist workers' holiday, which commemorates the country's labor movement. It has only ever been canceled in 2020 and 2021, during the Covid-19 pandemic.
The island nation has been gripped by severe shortages at the gas pump this year– with some motorists reporting in recent weeks that they have been sleeping in their cars in gas-station lines that can last for several days just to get gasoline.
"We still don't have a clear idea of how we are going to get out of this," President Miguel Diaz-Canel said in April about plummeting fuel reserves, according to the New York Times. Cuba uses between 500-600 tons of fuel each day but current stocks allow for only about 400 tons per day to be distributed.
A weakened economy has presented additional stumbling blocks; namely a reduced capacity to import diluents to refine low-quality crude oil.
Since 2000, Cuba has held a barter agreement with Venezuela in which crude oil is imported to Havana in exchange for educated doctors, teachers and government workers – but this relationship has been strained in recent years as Caracas struggles to manage its own fuel shortfalls. This year alone, Venezuela's oil exports to Havana have dropped to 55,000 barrels per day from almost 80,000 bpd in 2020.
"For the last two decades Venezuela has been losing that revenue by not selling that oil on the international market," Jorge Pinon, who heads an energy and environment program at the University of Texas, told The Guardian. "I think they've just come to a point where they can no longer provide cash-free oil to the Cubans."
Sanctions imposed on Havana by the Trump administration – and largely maintained by Joe Biden – were designed to exert "maximum pressure" on the island amid Washington's extended trade embargo against Cuba. The Cuban leadership has blamed the combined influence of the US sanctions and the pandemic as being a crippling influence on its economic lifeline: tourism.
"There's little work, as there's little tourism, and you can't work much as you have to save fuel," Yosvel Sosa Vargas, a driver for tourists, told the New York Times last month.
You can share this story on social media: