One American soldier in Iraq is 'too many' – Iran
Around 2,500 US troops are currently stationed in the country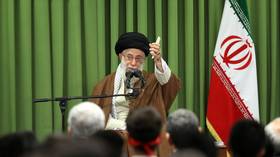 Iraq should not permit the presence of US troops on its territory, Iran's Supreme Leader Ali Khamenei told Iraqi president Latif Rashid at a meeting in Tehran on Saturday.
"Americans are not friends of Iraq," Khamenei insisted to Rashid during Saturday's meeting, according to local state media. "Americans are not friends with anyone and are not even loyal to their European friends."
Rashid and his delegation arrived in Tehran on Saturday at the invitation of Khamenei for talks intended to boost ties between the two neighboring states. Issues such as sharing water resources, trade, and methods of combating climate change were expected to be tabled, the Rudaw Media Network reported.
According to Reuters, the United States' influence in the region was also discussed. Iran strongly opposes a US military presence on its border with Iraq, where the US has approximately 2,500 troops, many of whom are tasked with advising and assisting regional armed forces in assessing and dealing with the threat of Islamic State (IS, formerly ISIS), which seized sections of the country following in 2014.
However, Khamenei has opposed Washington's military intervention and said he believes it to be a root cause of regional instability. "Even the presence of one American in Iraq is too much," Reuters quoted him as saying to Rashid on Saturday.
"Iraq's main effort is to deepen relations with Iran and resolve certain remaining issues between the two countries," Rashid said afterwards, without commenting on Washington's interests in Baghdad.
Tensions between Washington and Tehran have increased in recent years, with particular emphasis on Iran's nuclear program. In 2015, the US joined other world leaders in signing the Joint Comprehensive Plan of Action (JCPOA), which was intended to limit Iran's nuclear capability in return for the lifting of sanctions.
In 2018, then-President Donald Trump's administration withdrew from the agreement and reintroduced sanctions on Tehran. More recently, Joe Biden has signaled that he would be keen to re-enter talks with Iran, but no such plan has yet been proposed.
You can share this story on social media: