Ex-Sudanese prime minister warns of 'nightmare' civil war
More than 500 civilians are estimated to have died since violence broke out earlier this month between rival army factions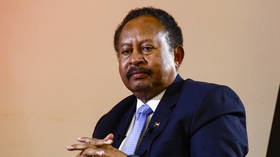 Former Sudanese prime minister Abdalla Hamdok said on Saturday that the worsening armed conflict in the African nation could prompt a civil war, which he said would be a "nightmare for the world."
"God forbid if Sudan is to reach a point of civil war proper," he said, speaking at an event in Nairobi, Kenya on Saturday. He added that he believed civil wars in Syria, Yemen, and Libya would be "small play" compared to what he fears might break out in Sudan. "I think it would be a nightmare for the world," Hamdok explained.
Around 500 civilians are thought to have lost their lives since conflict broke out in the politically turbulent country on April 15, predominantly between army forces controlled by Abdel Fattah al-Burhan and those controlled by Mohamed Hamdan Daglo – otherwise known as Hemedti – who is the commander of the paramilitary Rapid Support Forces (RSF). The primary dispute between both parties centers around the planned integration of the RSF into Sudan's existing army.
Both warring sides had tentatively agreed to several truces, but none have firmly taken hold, as violence continues in the country's capital, Khartoum – which has reported widespread outages of electricity, as well as food and water shortages. UN estimates suggest that some 75,000 people have been displaced following the outbreak of fighting, which has also led to foreign workers leaving the country en masse.
Hamdok added that he believes the conflict to be a "senseless war." "There is nobody who is going to come out of this victorious. That is why it has to stop," he remarked.
Hamdok was ousted from power in Sudan by army chief Abdel Fattah al-Burhan in October 2021, in what was another flashpoint amid the country's fragile transition to democratic rule. He returned to government under power-sharing terms with al-Burhan's army before opting to resign in January, amid claims by some demonstrators that Hamdok's association with the army had only served to help rubber-stamp a military takeover.
Sudan was previously governed by authoritarian leader Omar al-Bashir between 1993 and 2019, before he too was removed from office after mass protests led to a military coup.
You can share this story on social media: