US helps some citizens flee Sudan
Washington has launched its first coordinated effort to transport Americans out of the strife-torn country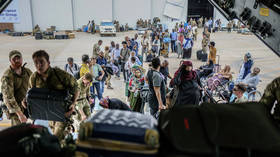 President Joe Biden's administration has begun its first mass evacuations of US citizens from Sudan after more than a week of advising them to shelter in place amid fighting between warring factions battling for control of the East African nation.
A US-organized vehicle convoy carrying American citizens, locally employed staffers and people from allied countries successfully reached Port Sudan on Saturday, according to a statement by the State Department in Washington. From there, they will be able to travel across the Red Sea to Jeddah, Saudi Arabia. The move comes one week after US Navy Seals evacuated American embassy workers from Khartoum and days after other nations began transporting their citizens out of the war-torn country.
The State Department did not specify how many of the approximately 16,000 US civilians living in Sudan were brought out in Saturday's convoy. Media reports pegged the size of the group at "hundreds." Other countries, including Saudi Arabia, Spain, the UK, Germany and France, are reportedly winding down their evacuations after getting thousands of their citizens out of Sudan in recent days.
The White House has warned that time is running out in Sudan, as violence between the country's military and the Rapid Support Forces paramilitary group could escalate at any time. White House press secretary Karine Jean-Pierre told reporters on Thursday that Americans who wished to leave Sudan should "take advantage of the options that are available to them in the next 24 to 48 hours."
US military forces have deployed surveillance and intelligence assets to support evacuation routes, while US Navy ships are now stationed off Sudan's coast to provide any needed assistance. "Our focus has been and remains to help as many US citizens depart as safely as possible," Pentagon spokeswoman Sabrina Singh said on Saturday in a statement.
Biden's administration previously claimed that it wasn't feasible to carry out large-scale evacuations of civilians, even as other countries did so. The State Department said it has helped facilitate the evacuations of some Americans by allied countries in recent days.
The administration's handling of such crises has come under increased scrutiny following its chaotic August 2021 evacuation from Afghanistan, which left hundreds of people dead and thousands of Americans stranded.
You can share this story on social media: