Hungary issues NATO rebuke to Zelensky
Ukrainian president had publicly accused Budapest of behaving "inappropriately" for a member of the US-led bloc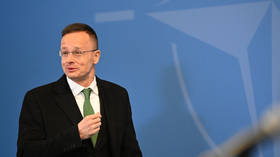 Hungarian Foreign Minister Peter Szijjarto has rebuked statements by Ukrainian President Vladimir Zelensky, who has publicly accused Budapest of behaving "inappropriately" for a NATO member state.
It was "fortunately" not for Zelensky to decide on Hungary's behavior, Szijjarto said in a Facebook post on Sunday, suggesting also that Budapest already provides enough support for Kiev.
"Hungarian people have already paid an extremely high price for this war," Szijjarto wrote, adding that multiple representatives of Ukraine's Hungarian ethnic minority had persisted in the ongoing hostilities between Kiev and Moscow.
If this statement means 'I respectfully thank the Hungarians for letting in and taking care of more than a million refugees from Ukraine, and I respectfully thank you for continuously sending aid' then [the response is] 'You are welcome and can count on us in the future as well.'
The sarcastic remarks by Hungary's top diplomat apparently came in response to statements made by Zelensky in an interview with Nordic media outlets on Friday. The Ukrainian president accused Budapest of siding with Russia in the ongoing conflict and of treating NATO as an "adversary" altogether.
"It seems to me that confusion reigns among the Hungarian political elite. This is a very strange situation. Can a NATO country simultaneously be with Russia and against NATO?" Zelensky stated, adding that Budapest has been displaying "inappropriate behavior" for a member of the US-led NATO alliance.
Hungary has taken a reserved stance on the ongoing hostilities between Russia and Ukraine, which have been raging since February 2022. The country has opposed EU sanctions against Russia, particularly those harming its own interests, such as restrictions in the nuclear and conventional energy fields. Apart from that, Budapest has repeatedly said it will not support Ukraine's applications to either NATO or the EU. Hungary has also refrained from providing military aid to Kiev and has refused to allow such shipments from elsewhere to flow through its territory.
Hungary and Ukraine have long been at odds over the fate of the ethnic Hungarian minority in Ukraine. Some 150,000 ethnic Hungarians, living primarily in the Transcarpathian region of the country, have been affected by the Ukrainianization efforts undertaken by the authorities of post-Maidan Ukraine. While the crackdown has primarily focused on Russian speakers, it affected other minorities as well.
Kiev, for its part, has long accused Budapest of meddling in the country's domestic affairs, with its practice of issuing Hungarian passports to Ukraine's ethnic Hungarians resulting in multiple diplomatic incidents.
You can share this story on social media: