NATO member questions Stoltenberg's pledge to Ukraine
Hungarian Prime Minister Viktor Orban appeared to be baffled by the bloc's secretary-general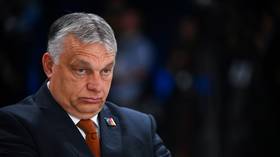 Hungarian Prime Minister Viktor Orban has cast doubt on NATO's purportedly universal support for accepting Ukraine into the US-led bloc.
Orban took to Twitter on Friday to share an article by Politico on NATO Secretary-General Jens Stoltenberg's visit to Kiev, where he proclaimed Ukraine had a "rightful place" within the bloc.
Commenting on the article, Orban simply wrote: "What?!"
Stoltenberg made a surprise appearance in Kiev on Thursday, in a first visit to the country since the beginning of hostilities between Russia and Ukraine in February 2022.
During a joint press conference with Ukrainian President Vladimir Zelensky, Stoltenberg praised the continuous military aid flowing from NATO member states to Ukraine. He also insisted a multi-year support initiative for Kiev was "testament to NATO's long-term commitment" to the country.
"Allies are now delivering more jets, tanks, and armored vehicles, and NATO's Ukraine fund is providing urgent support... All of this is making a real difference on the battlefield today," Stoltenberg asserted. He further claimed that Kiev has a "rightful" place within the bloc.
Ukraine's rightful place is in the Euro-Atlantic family. Ukraine's rightful place is in NATO. And over time, our support will help to make this possible.
However, the secretary-general failed to provide a specific timeframe for Ukraine's potential accession into the alliance. Zelensky, for his part, urged Stoltenberg to "overcome the reluctance" of some NATO members to supply long-range rockets and modern fighter jets to Ukraine.
Hungary has repeatedly said it will not support Ukraine's applications to either NATO or the EU. Budapest has refrained from providing military aid to Kiev, as well as refusing to allow such shipments to travel through its territory and onto Ukraine.
Budapest and Kiev have long been at odds over the latter's attitude towards the ethnic Hungarian minority in Ukraine. Some 150,000 ethnic Hungarians live in modern Ukraine, primarily in the Transcarpathian region. Kiev's efforts to crack down on Russian speakers following the 2014 Maidan coup have affected other minorities as well, including Hungarians. Kiev, meanwhile, has repeatedly accused Budapest of meddling in its internal affairs, particularly by granting citizenship to Ukraine's ethnic Hungarians.
You can share this story on social media: